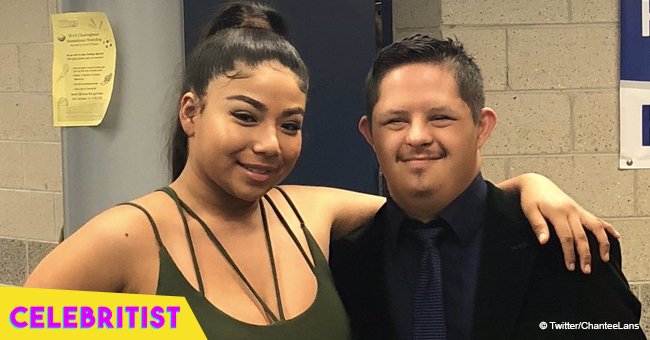 High school student makes heartwarming homecoming proposal to classmate with special needs
The homecoming proposal of a high school student to her special needs friends became viral after she posted the video on Facebook. The enchanted boy said yes, of course, and they had an incredible night together.
Brittney Morales, a senior student at the Norristown High School in Philadelphia, organized a pleasant surprise to her classmate and friend with special needs to invite him to their homecoming. Giovanni Torres, who loves music and dancing, accepted the invitation.
THE PROPOSAL
In a video shared by the teenager to her Facebook, she's seen walking into Giovanni's classroom carrying a box of donuts and a sign that says "Would you go to HoCo dance w/ me?" As she enters the room, Giovanni is entertained playing with some instruments.
Then, Morales asks her friend "do you wanna go to homecoming with me?" and Giovanni doesn't miss a beat before saying yes. He then receives the box and the sign and gives Brittney a side hug as they get ready to pose for a photo.
"HE SAID YES. Making someone's day is always on my agenda #HOCO2018," she captioned the Facebook, which has earned over 141k views in the last week.
THE REASONS BEHIND IT
People from all around the country praised Brittney for making Giovanni feel included and giving him the chance to enjoy of such a regular activity like the homecoming in the company of friends. But Brittney confessed that the invitation has a long time coming.
In an interview with CBS, the girl said that she met Giovanni two years ago when she was working as a waitress at a Mexican restaurant where the boy's father, David Torres, is the manager. She confessed that she was planning on taking Torres to prom last year but then found out that special needs students have a different dance.
"So it motivated me to do it even more," she said. When she found out that all the students would be attending homecoming together, she didn't miss the chance to invite Torres.
Of the reaction her video caused on the internet she said:
"It was just so exciting, and I would've never expected for all this to happen. I just recorded it because I wanted to share the moment with his dad and parents."
"WE'RE ALL HUMAN; WE'RE ALL THE SAME."
And Giovanni's dad, David, couldn't be more grateful with Brittney for considering his son to be her date. "Just happy and I'm thankful for Britney for doing that," Torres said.
"Every time I see [the video], it makes my eyes tear up. Seeing him grow up, you just want him you know to have all of the experience like everybody else, you know?"
Brittney and Giovanni had a fantastic night filled with friends and dancing. The boy even took part in a dance battle as his classmates cheered on him, and Brittney made sure he had an incredible homecoming experience.
"I always try to make [people with special needs] a part of us because we're all human, we're all the same," Britney told CBS. "We were all born the same. Some of us just have a different destiny."
DISABLED PEOPLE ARE NOT FANS OF THE PROPOSALS
According to BBC, for some disabled people, this kind of proposals where a person asks their disabled or special needs friend to dance, records the moment and then posts it on Facebook, is humiliating and degrading to some extent.
Michael Mort, a blogger, and wheelchair-user living with Duchenne Muscular Dystrophy in New York explained on his blog that is frustrating to see how people with disability are used to show off an act of "solidarity" and suddenly the non-disabled person becomes a hero.
"We do not exist solely to inspire and spending time with us doesn't make you a hero. Generally, disabled people want to be included and accepted not made a spectacle of," he wrote.
And concluded:
"I think there is definitely less bullying and ostracism than in the past but continually being viewed as an object of inspiration carries its own feeling of separation, it can be dehumanizing in its own way."
Please fill in your e-mail so we can share with you our top stories!