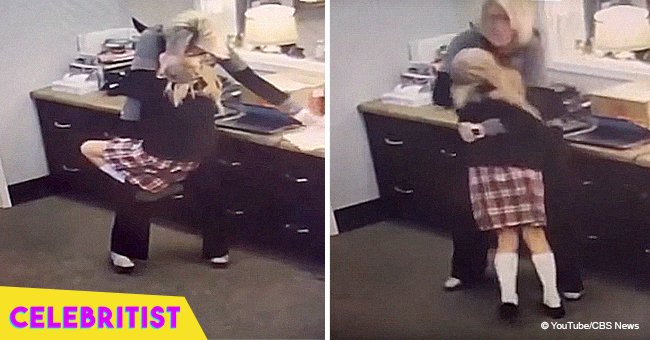 11-year-old girl loses control in emotional video when told she's being adopted
The adorable reaction of a little girl when she's told her foster parents have the green light to adopt her melted hearts all over the internet. She had been waiting for the court's answer, and her good friend at school had the privilege of breaking the good news.
Surveillance cameras at the American Heritage school recorded the heartwarming moment when 11-year-old Tannah Butterfield of South Jordan, Utah, received the news about her adoption going forward.
In the clip, school's office manager, Jackie Alexander, who's also a very good friend of Tannah and her family, can be seen entering the room and grabbing the little girl by her shoulder to tell her the news after her mother called.
The girl immediately leaps into Alexander's arms, hugging her tight and kicking her feet in delight. The woman returns the gesture, and neither of them seems to want to let go of the happy embrace.
"All that excitement, joy and happiness that you see in Tannah went right through to me," Alexander, 46, told ABC News. "We could not quit embracing. She just held me tight. It was pure joy at its finest."
The school official said she received a call from Jennifer Fisher, Tannah's foster mom, telling her that they finally got the approval of the court for the adoption. She asked Alexander to relay the news to her soon-to-be-daughter because she knew the little girl was anxious about the issue.
"[Jen Fisher] had called to tell me that everything had went well in court that day, that Jeff and her were going to adopt her and the rights were [removed] from the biological parents," Alexander said. "She was just so worried and didn't want her to wait any longer, so that's where I got to play a small part."
Tannah was not the only to join the Fisher family, as they also adopted her brother Teagun, 6 and her sister Tallie, 2. The kids join Jen's two biological sons, Aiden and Macy.
The happy "forever mom" as Tannah called her, said:
"We just loved them so much. My husband and I had a lot of infertility problems, and we had wanted more. This kind of fell on our lap."
AN EMOTIONAL ADOPTION PROPOSAL
10-year-old Kalani Watson was celebrating his birthday when he decided to surprise his stepfather, Brandon Williamson. The adorable but shy boy stood in the middle of his party and, with shaky heads holding a paper, he asked "Brandon Craig Williamson, will you do me the biggest favor in the world? Will you adopt me?"
The man broke down in tears at the boy's request, apparently overwhelmed by emotion. He had seen Kalani grow up since he started dating the boy's mom seven years ago. "I've been there for everything, practically," Williamson said. "Him recognizing that, and wanting to have my last name; it meant the world to me."
Please fill in your e-mail so we can share with you our top stories!