Lenny Kravitz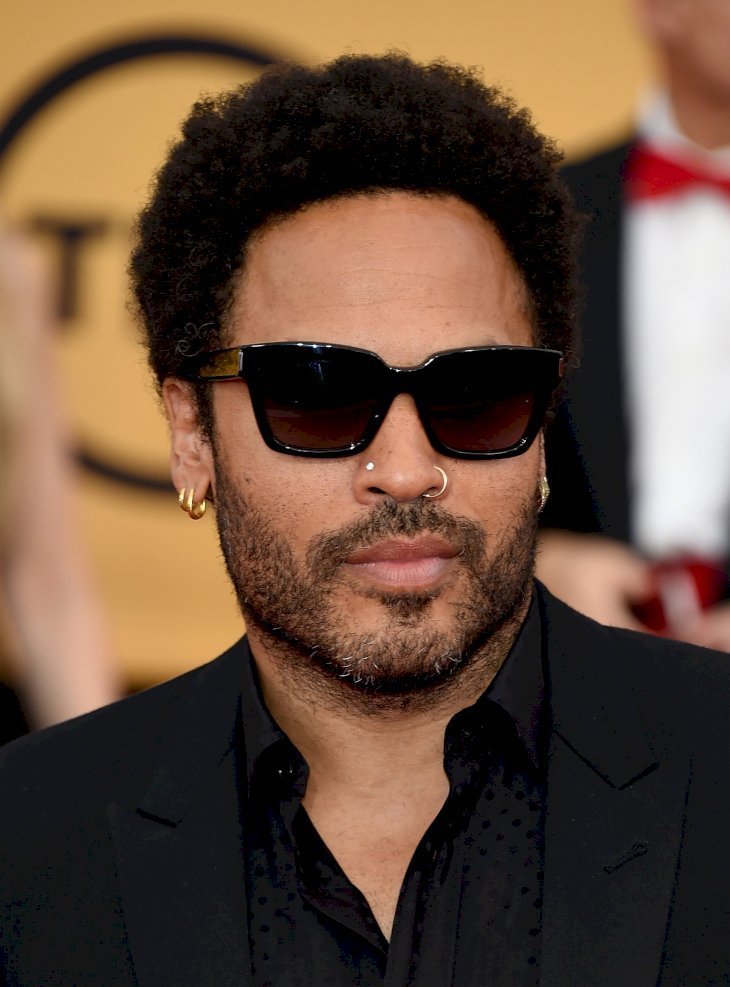 Content
| | |
| --- | --- |
| Full Name: | Leonard Albert Kravitz |
| Date of Birth: | May 26, 1964 |
| Place Of Birth: | New York City, U.S |
| Zodiac Sign: | Gemini |
| Age: | 54 Years Old |
| Height: | 1.75m |
| Professions: | Singer, songwriter, actor, record producer |
| Famous As: | Grammy Award-winning rock musician |
| Net Worth: | $40 million |
| Spouse/Ex: | Lisa Bonet (m. 1987; div. 1993) |
| Social Media:   | Twitter, Instagram, Facebook, IMDb, Wikipedia |
 . 
Who is Lenny Kravitz?
Lenny Kravitz is a Grammy Award-winning singer. In 1989, he released his first album, "Let Love Rule." He won his first Grammy for his album, "Five."  
He is well known for incorporating rock, blues, soul, R&B, funk, jazz, reggae, hard rock, psychedelic, pop, folk, and ballads to create his signature style.
Early life:
Leonard Albert Kravitz is now known as Kravitz. He was born on May 26, 1964, in Brooklyn, New York to Sy Kravitz and Roxie Roker. Kravitz is an only child. His father is Jewish; his mother, who died of cancer in 1995, was an African American Christian.
He grew up in a wealthy family as his father was a television producer, and his mum was an actress on the TV show "The Jeffersons." The family moved to Hollywood for his mother's role, and Kravitz joined the California Boys Choir. By this time he already had a deep passion for music.
Through his stellar performances with the choir, Kravitz secured a spot in the music program at Beverly Hills High School from where he graduated in 1982.
Career:
Towards the end of the 1980s, Kravitz moved back to New York to pursue a career in music. In 1989, Kravitz signed with Virgin and released his debut album "Let Love Rule," for which he played nearly all the instruments on the album.
This was followed by his second album, "Mama Said," two years later. The album was Kravitz's true breakthrough as it reached the top 40 of the Billboard album chart. The single "It Ain't Over Til It's Over"  from that album hit number two on the singles charts.
In 1994, Kravitz earned a BRIT award for the best international male artist when he released his third album, "Are You Gonna Go My Way." He then released "5" in 1998 and won his first Grammy for Best Male Vocal Rock Performance.
He has co-written and produced material for many artists, including Madonna, Vanessa Paradis, and Steven Tyler. Kravitz has collaborated on songs for Michael Jackson, Mick Jagger, David Bowie and Jay Z.
Even though Kravitz is best known for his music, he has appeared in several films, including "Precious" in 2009, and "The Hunger Games" in 2012.
Personal life:
In 1985, when Kravitz's parents got divorced, he was profoundly impacted, and the relationship between him and his father became extremely strained. Kravitz decided to focus on his music to get through the process.
In the same year as his parent's divorce, Kravitz met actress Lisa Bonet at a New Edition concert. They became close friends for two years and eventually fell in love. When Kravitz moved back to New York City, he ended up moving in with Lisa Bonet.
On November 16, 1987, Kravitz eloped with Lisa Bonet. It was her 20th birthday, and they went to Las Vegas for the ceremony. Together they welcomed their daughter, Zoë Isabella Kravitz, into the world on December 1, 1988. Unfortunately, their relationship did not last and they amicably divorced in 1993.
Kravitz then went on to date Vanessa Paradis until 1997, after which he started dating Brazilian model Adriana Lima in 2001, and they got engaged a year later. However, the engagement was called off less than a year later, and they broke up. He also dated and was engaged to Nichole Kidman in 2004.
Movies/Series:
Albums:
Let Love Rule (1989)
Mama Said (1991)
Are You Gonna Go My Way (1993)
Circus (1995)
5 (1998)
Lenny (2001)
Baptism (2004)
It Is Time for a Love Revolution (2008)
Black and White America (2011)
Strut (2014)
Raise Vibration (2018)
Awards:
1993  
 MTV Video Music Awards - Best Male Video for "Are You Gonna Go My Way"    
1994    
Brit Awards - International Male Solo Artist    
1998    
VH1/Vogue Fashion Awards - Most Fashionable Artist, Male    
Billboard Music Video Awards - FAN.tastic Video "Fly Away"  
2000
Grammy Award - "American Woman"    
2001
Radio Music Awards - Artist of the Year/Pop Alternative Radio    
Blockbuster Entertainment Awards - Favorite Male Artist – Rock
My VH1 Awards - Favorite Male Artist    
Grammy Award for the song, "Again."
2002
American Music Awards - Favorite Pop/Rock Male Artist    
Microsoft Windows Media Innovation Awards - Microsoft Windows Media Innovation Award
Won Grammy Award for Best Male Rock Vocal Performance for "Dig In"
2004    
BDSCertified Spin Awards - 50,000 Spins "Lady"
2005   
Lunas del Auditorio - Best Foreign Rock Artist    
2006  
ASCAP Pop Awards - Most Performed Song for "Lady"
2009
Black Reel Awards - Best Ensemble
Boston Society of Film Critics Awards - Best Cast
2012   
DJ Awards - Best Ibiza Live Performance
2013
DJ Awards - Best Ibiza Live Performance 
2014    
NRJ Music Awards - NRJ Award of Honor  
2015    
UK Music Video Awards - Best Live Music Coverage for "Just Let Go"
"Music is my life, it is a reflection of what I go through" ~ Lenny Kravitz
Trivia:
Lenny's father was of Ashkenazi Jewish heritage from a family from Eastern Europe, either Russia or Ukraine. Lenny's mother was of Afro-Bahamian and African-American ancestry
Was once engaged to Brazilian model Adriana Lima
Once known for his long dreadlocks, Lenny Kravitz cut them off before the release of his album "Five" in 1998.