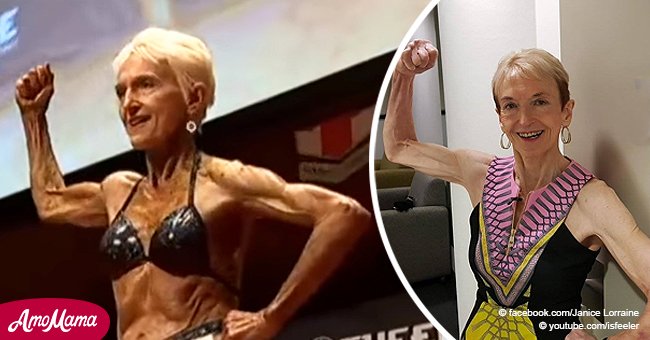 Meet the 75-year-old bodybuilding granny who reveals the strict diet that keeps her in shape

A bodybuilding grandmother shows that it's never too late to live a dream.
Janice Lorraine is 75 years old, and for the last 20 years, she had been doing what people told her was impossible: competing as a bodybuilder, reported People.com on August 13, 2018.
The former psychologist started bodybuilding at 55, and was told she was 'too old,' but she soon proved them wrong.
"My aim is not to rival those younger than me. My aim is to show what's possible and to motivate and encourage women of any age, to live the life they want to live and not be bound by traditional stereotypes and roles and the expectations of others."
Janice Lorraine, People.com, August 13, 2018.
FACING DOWN PREJUDICE AND MAKING HER MARK
Lorraine began competing internationally in 1999 and won two gold medals in America in her first competition.
She was heartened by the enthusiastic way American audiences welcomed her as a 50+ competitor. She realized she was in a position to debunk the unflattering traditional stereotypical image of the older woman, and show that older bodies can be beautiful and strong.
TWENTY YEARS LATER, TWENTY THREE CHAMPIONSHIP TITLES
Lorraine's determination has won her 23 championship titles in the last 20 years, and people are no longer surprised by the vision of the 75-year-old grandmother in a bikini, showing off her perfectly toned body under the spotlights.
"STOP BEING EMBARRASSED FOR BEING OLD"
Lorraine's message to people - especially women - her age is to tell them to stop feeling 'bad' or ashamed of their age. She believes that anything is possible at any age, so long as you are determined and willing to work hard.
KEEPING IN SHAPE WITH "NUDE FOOD"
To keep herself fighting-fit, Lorraine follows what she calls "nude food" diet. This is food that is prepared without condiments or sauces and consists of unprocessed foods - grilled chicken, grilled fish, and eye fillet steak, accompanied by salads and sweet potato. She does enjoy a glass of wine with her dinner and sweetens up with one cookie and one square of 90 percent sugar-free chocolate a day.
Read more on our Twitter account @amomama_usa.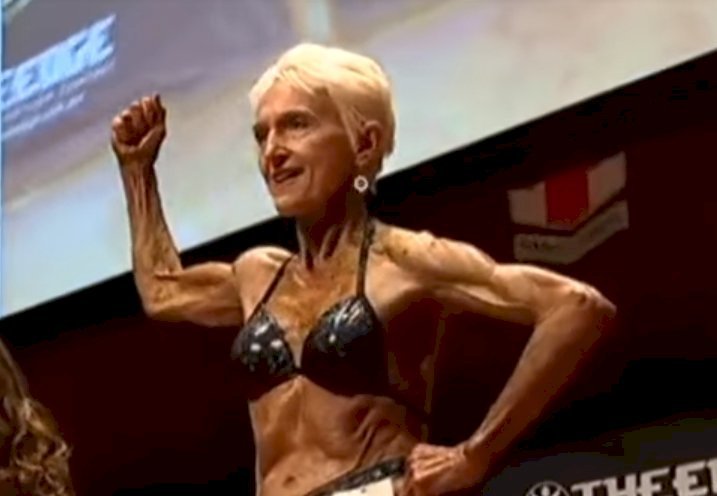 Source: Youtube/isfeeler
NEVER TOO OLD OR TOO YOUNG FOR BODYBUILDING
If Lorraine has become a living example of what can be achieved later in life, one little girl has been astonishing the world and set a new benchmark for children.
Prisais Townsend did her first CrossFit workout when she was just 10 months old. She was copying her father's routine at the gym.
Prisais' father James Townsend, who co-owns of Automo CrossFit in Moorpark, California, was surprised to see her dedication to working out at such a young age, and he never imagined that she would stick to it.
"Anytime she comes into the gym, I let her treat it like a playground. This needs to be fun for her. I would be devastated if she ever felt like she was doing it for any reason other than her love of gymnastics. I'm her dad first and her fan second."
Prisais is now 5-years-old, and she does 10 workouts per week consisting of using the beam sandbar, push-ups, handstand push-ups, pull-ups, burps, box jumps, and air squats.
She can also perform barbell back squats, deadlifts and full cleans, along with 20 straight pull-ups, lift a 50lb back squat, and a 65lb deadlift.
Townsend does not push Prisais, and has said that the moment she stops having fun, it's time to stop Crossfit. Like Lorraine, Prisais is an example, especially considering the growing rates of obesity among young children.
Please fill in your e-mail so we can share with you our top stories!