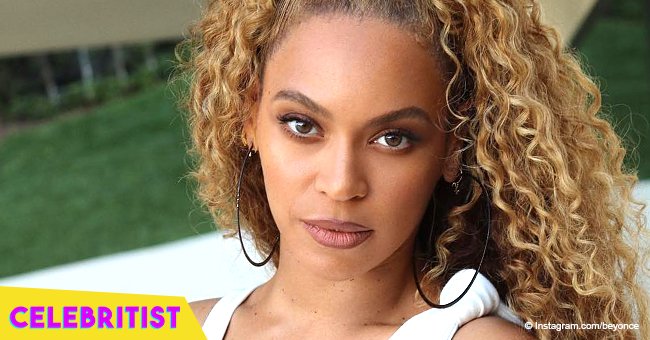 Beyoncé poses like a broken doll in black skirt suit in the middle of a basketball court
Fresh from the astounding success of "On The Run II," Beyonce suits up and dolls up in a mesmerizing photo spread she recently shared on social media.
Beyonce just wrapped up her highly successful "On The Run II" tour with her husband Jay-Z and she's back making waves on Instagram. The songstress suited up and shared a series of snaps where she poses like a broken doll.
FRESH FROM SUCCESS
Jay-Z and Beyonce made a killing in sales after completing their power-charged tour earlier this month. The mega couple reportedly earned a quarter of a billion after traveling around Europe and North America staging close to 50 shows. Their highest grosser was their two-night stint in Atlanta earning $14.1 million. The tour exceeded expectations. It earned 132% more in sales compared to their 2014 "On The Run" tour.
ALL DOLLED UP
Most likely enjoying her downtime, Beyonce suited up to reveal another facet of her ever-changing looks. In photos she just released, she channeled a live doll. She donned a fierce long-sleeved black blazer with a coordinating mini skirt. With her hair slicked back and her feet flaunting black and pink clogs, she struck broken doll-like poses on a basketball court.
AUTUMN-READY
The photos were caption-less much like most of her fashionable photo shoots. But she did change into another suit for another series of mesmerizing snaps proving what a style star she truly is. For her second layout, the mother-of-three let her hair down and posed in front of a wood paneling. She went braless wearing a plaid jacket with tulip sleeves with a matching wide-leg trouser. She matched the grey shades of her suit with her dark grey lipstick.
The singer threw on an orange coat-cape in one of the photos channeling an autumn-ready vibe.
A DISTURBING THREAT
In the midst of the success of Beyonce and Jay-Z's shows is a disturbing threat the couple allegedly received. In a series of text messages sent to an investigator, threats to the couple were discovered coming from George Zimmerman. Zimmerman was the policeman who was acquitted for the killing of Trayvon Martin.
The threats will be featured in "The Trayvon Martin Story," a six-part documentary series co-produced by Jay-Z. Zimmerman reportedly promised that the power pair would find themselves "inside a 13-foot gator." This was apparently a response to Jay-Z who previously threatened to beat Zimmerman and feed him to an alligator.
The Carters have been very supportive of the Martin family after Trayvon's death. Trayvon was shot by Zimmerman who defended his actions by crying self-defense. The series is their way of raising awareness on issues concerning police brutality.
Please fill in your e-mail so we can share with you our top stories!