Great Dane pup couldn't stop crying after being abandoned by cruel owners
A 1-year-old Great Dane puppy was left behind by his family after he was deemed as "not friendly enough." The sad dog broke the hearts of volunteers at the Carson Animal Shelter in California, and they decided to help him find a new home.
The Carson Animal Shelter is a high kill facility that doesn't give animals much time to find a new home before they're put on a list and put down to rest germanely, just like that. Every day dogs and cats enter the refugee and sadly, there aren't many that survive.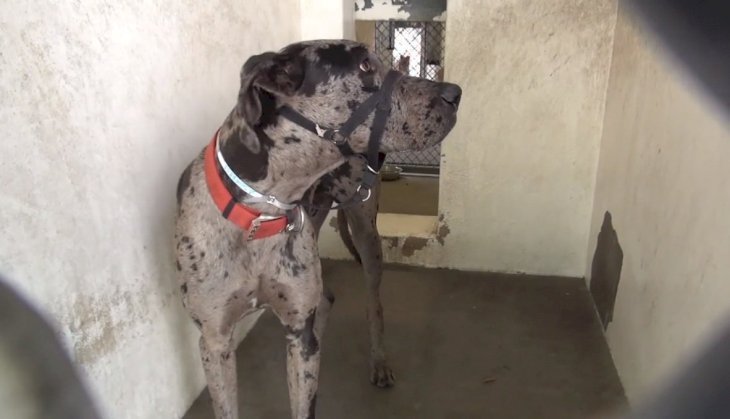 Gonner was just one-year-old when he was dumped at the shelter. The family that had adopted him since he was a puppy decided to get rid of him one day, not thinking about the consequences of their actions and the fact that the pup had low chances of making it in the place they choose to take him.
After spending a few nights at the shelter all alone, and realizing his family wasn't coming back, Gonner started to cry himself to sleep, breaking the hearts of the shelter's volunteers, who always try their best to help all the animals to find a new home before their time is due.
So, in an attempt to catch the attention of a loving family that would take care of Gonner, some volunteers recorded a video of the pup receiving some treats and being just a friendly pet in general and shared it on the Facebook page "Saving Carson Shelter Dogs."
Their description of Gonner was the following:
"GONNER is big and beautiful, and his family left him at the shelter because he wasn't friendly enough. He has that collar over his face, and you can see it's raw underneath and if you give him a cookie he is extremely gentle and sweet. He needs help fast; he's in the back with no Kennel Card! He will need someone with experience and someone to give him training."
They also specified that the person interested in adopting Gonner would have to request a temperament test to the shelter before they allow him to gain his freedom back.
Thousands of people came forward to help the good big boy, and thanks to their kindness, Gonner was safely adopted and put under the care of a loving family.
A SAFE HEAVEN FOR DOGS
Another dog that was abandoned but had the luck of being rescued by a fantastic human being is Betsy.
She was dumped outside of the Humane Society of North Texas, were workers found her tied with a rope to the entrance of the building. She looked nervous and lost at first, but when they approached her, the sweet girl starting waggling her tail and showing affection to the staff.
Cassie Lackey, community relations manager for the rescue, told The Dodo:
"The minute they stepped toward her, it's as if she was saying, 'Oh my God, there's people here! I'm good now.' She was friendly and so sweet since the very beginning. She will give anyone kisses, whether they like it or not!"
After they took her in to get a check-up, the veterinary found out she was 2-year-old and had recently weaned puppies. She also had a bacterial infection on her skin and was in urgent need of a bath.
Unlike the Carlson Shelter, the Humane Society is a safe heaven for dogs and other animals. They give them all the time needed to find a new family, and usually, don't have to wait too long before a volunteer comes to adopt or foster the pets.
Betsy met hew new owner after being in the refugee for a short period while she received antibiotics to cure her bacterial infection, Now, she has a happy life with a new loving family.