Black customers arrested while waiting for their friend at Starbucks
Two black men waiting for a friend to show up at a Starbucks coffee shop were arrested for simply doing nothing. The coffee company's CEO has since apologized and reached a settlement with the two men.
Earlier this year, two black men who appeared to be whiling away their time at a Philadelphia Starbucks were caught off guard when police arrived and arrested them.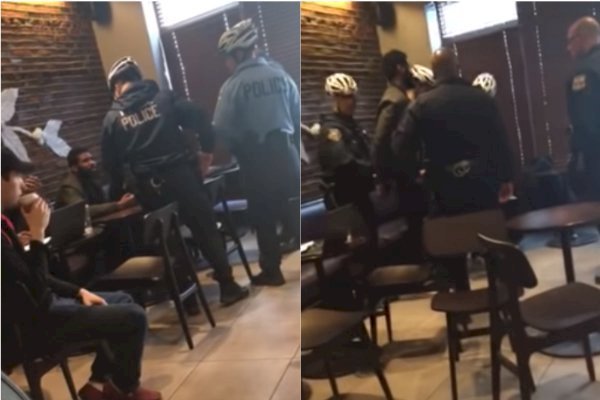 WHY WERE THEY ARRESTED?
Police were reportedly called to the scene when an employee noticed Robinson and Nelson hanging out at the shop without ordering anything. The men identified as Donte Robinson and Rashon Nelson used the establishment's restroom before taking their seats. They were asked to leave but the men explained they were waiting for a friend. It was only fifteen minutes since the two men entered Starbucks when police arrived just as the friend they were expecting showed up. They were supposed to have a business meeting about a real estate project.
 A video of their arrest was posted online inducing outrage from many who found it appalling. Witnesses on the scene even tried to intervene wondering why the men were arrested for something that they themselves have done in the past. 
A CASE OF RACIAL PROFILING
Robinson and Nelson's lawyer, Lauren Wimmer believes her clients were a victim of racial profiling. 
"These guys were doing what people do every day, they were having a meeting and they were undoubtedly singled out because of their race." 
@Starbucks The police were called because these men hadn't ordered anything. They were waiting for a friend to show up, who did as they were taken out in handcuffs for doing nothing. All the other white ppl are wondering why it's never happened to us when we do the same thing. pic.twitter.com/0U4Pzs55Ci

— Melissa DePino (@missydepino) April 12, 2018
Following the unfortunate incident, Starbucks CEO Kevin Johnson apologized and insisted their company "stands firmly against discrimination or racial profiling."
We apologize to the two individuals and our customers for what took place at our Philadelphia store on Thursday. pic.twitter.com/suUsytXHks

— Starbucks Coffee (@Starbucks) April 14, 2018
THE SETTLEMENT
Starbucks has since reached an undisclosed financial settlement with Robinson and Nelson. Both parties also agreed to work together towards improving Starbucks' diversity efforts. The two men also pledged their support for a $200,000 grant encouraging young entrepreneurs. They'll be working with the city and a non-profit organization in relation to developing criteria for awarding the grant. 
LOST IN TRANSLATION
This case is like another incident that occurred at a drive-through of Dunkin Donuts. A Somali woman was reportedly subjected to police intervention after speaking in her native language. The employee taking her order assumed the woman was yelling at her and immediately called the cops. Despite the woman's explanation that she was speaking native, the employee refused to hear her and asked her to leave. Police later arrived and issued a ban on the woman for yelling at the staff. The store owner later apologized to the woman who didn't do anything wrong. He also pledged to train his staff better so the incident doesn't happen again.