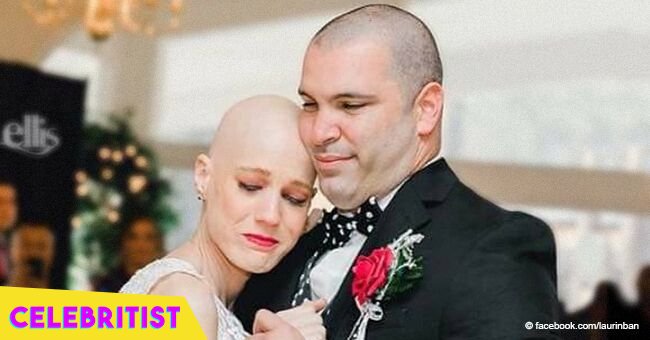 Cancer patient has died after defying all odds to attend her own wedding
A woman from South Carolina passed away after surprising doctors by miraculously surviving to attend her planned wedding. Her story has touched hearts all over the nation.
Laurin Bank, 30, died last weekend after a long battle with cancer. It has been seven months since she got married to the love of her life, Michael Bank, in a beautiful ceremony that her doctors thought she wasn't going to live enough to see.
"She has left a huge hole in all of our hearts, and I am humbled to be her king. I was able carry her to bed and hold her until her last beautiful breath," Mark wrote on a Facebook post as he shared the sad news.
THE START OF THE BATTLE
Laurin was diagnosed with breast cancer in late 2014, and after going through a double mastectomy, chemotherapy, and radiation, she was declared cancer-free in April 2015. She decided to celebrate the news by doing a photo shoot with her bald head and pink gloves, as a sign of her defeating the illness.
She used the picture on her dating profile, sparking the curiosity of Mark, who is a Taekwondo teacher. The pair started talking, and after their first date, they knew the connection was too good to be ignored.
They both loved traveling and adventure, so they embarked on a mission to travel around the country, all while keeping an eye on Laurin's health.
Unfortunately, in August 2017 after suffering a back pain that sent her to the hospital, Laurin's doctors gave her terrible news: her cancer had returned and spread to her bones, liver, and lungs. "We were terrified," Bank admitted to TODAY a few months ago.
She started getting the most aggressive treatment, but that's when her doctors suggested to move up the wedding day. But the couple felt like moving the date was giving up to the illness, and they were not ready to do that.
A SPECIAL WEDDING
"This date was special to us," Laurin told PEOPLE.
"We felt like moving that date was giving up and giving in to the cancer and letting it run our lives. We didn't want to give in. That was our goal … and I was able to walk down the aisle to my husband. I was able to dance with him, and I didn't need a wheelchair or oxygen. I did it I made it."
Not only was Laurin able to live her wedding on their special day, but she also danced all night and smiled through the entire reception celebrating love with her friends and family. They celebrated their honeymoon and kept on traveling around whenever Laurin wasn't in the hospital.
SAD NEWS
Two weeks ago, she made an update on her condition through Facebook, revealing that her health had hit rock bottom and there was nothing else doctor could do to help her. Not even the most potent chemotherapy was making an effect, so she moved to home health care.
"I just want to keep things as normal as possible as long as possible! Making the best of each day and making memories are my wishes going forward!!! I can't thank everyone for all the love and support I have received, and I just want to say THANK YOU!!!!!"
HER LAST DAY
Mike explained that his "queen" had been feeling uncomfortable on Sunday morning after returning from her aunt's home. Even the morphine she got to help with the pain wasn't enough to soothe her. She passed away surrounded by her loved ones.
"Its been my honor to be by her side the past 3 and a half years and I would not trade the memories that we have made for anything in the world. She has made me so much a better person," Mike wrote.
He also encouraged people to donate money for the In The Middle foundation or Leslie's Week Foundation instead of sending flowers for his late wife.
A LOVE STORY TAINTED BY CANCER
On another sad note, a married couple was diagnosed with cancer months after their wedding day.
Michael Maguire, and his bride Annette, of Bowling Green, tied the knot in June 2015. Five months later, he was diagnosed with stage 1 pancreatic cancer, and two weeks later, Annette found out she had stage 3 lymphoma.
"I was really angry," Annette told Inside Edition "We get married, and everything's starting, and we're so happy, and all of a sudden, you're not giving us that time? It seemed very unfair."
"We were both looking around thinking, 'Is this a joke?' or, 'Is this a dream and can we wake up now?'"
The couple expected to be in remission after going through their respective treatments, and they relied on each other to battle the disease and had a long, happy life as newlyweds.
Please fill in your e-mail so we can share with you our top stories!