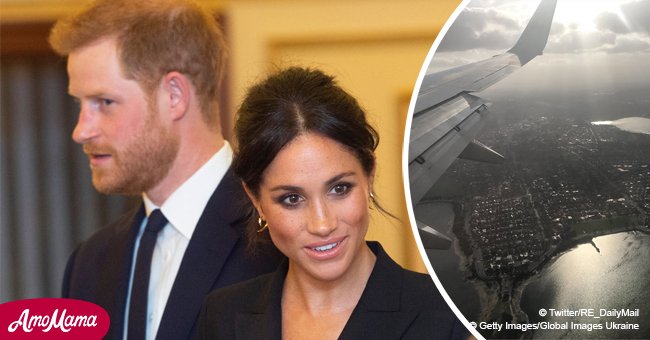 Meghan and Harry's plane forced to abort landing at the last second
The Duke and Duchess of Sussex hit a bit of a snag on their way from Tonga to Sydney, Australia. As their Quantas flight came in for a landing, they suddenly had to abort.
Their plane gained altitude seconds before landing and had to circle around for a second attempt. Luckily, the second attempt was successful and no one was harmed.
Speaking about the incident, the flight deck said:
"There was an aircraft on the runway a little slow to roll... so the decision was taken to abort the landing."
The failed landing is what is known as a "missed approach" in aviation terms.
For more on this story go to our Twitter account @amomama_usa. Rebecca English, a Royal reporter who was on the flight, posted a message from Captain Nigel Rosser on Twitter.
She wrote that the captain said:
"There was an aircraft on the runway that was a little bit slow to roll, unfortunately hadn't cleared the runway. We were too close, so the decision was made to abort the landing. It was what we call a missed approach."
Video footage from BBC journalist Simon Atkinson showed the charter plane descending to the runway before gaining altitude again. Atkinson was one of the passengers on board the plane.
The short clip showed the flight descending over houses as it made its approach. The plane then passes over a road before reaching the airport but it suddenly veers upwards.
The Duke and Duchess of Sussex were traveling with the media on the flight and journalists live-tweeted the incident. After successfully landing, the Harry and Meghan were pictured leaving the aircraft.
In the evening, the Royal couple attended the Australian Geographic Society Awards at the Shangri-La Hotel. On Saturday evening, the pair will attend the Invictus Games closing ceremony.
Then they will head off to New Zealand. The couple is nearing the end of their overseas tour, and so far they've visited Australia, Fiji, and Tonga.
In August, Meghan had a secret solo trip to Toronto to visit Jessica Mulroney, her best friend and unofficial maid of honor at her wedding. She flew commercially by Air Canada to the Canadian city.
A source shared that the Royal spent her time sipping a glass of champagne as well as a cup of peppermint tea. She also entertained herself with the romantic film, "Book Club."
Please fill in your e-mail so we can share with you our top stories!