Dog pulls off scam by pretending to be a stray to get her favorite food from McDonald's
Betsy Reyes, a woman from Oklahoma, took to Facebook to share a fun aspect of her dog, Princess. She often leaves the house, pretends to be a stray dog, and ask for food in McDonald's.
In the post that Betsy uploaded earlier this month – that has been shared almost 300,000 times so far – Princess appeared sitting in the middle of the street in what seemed to be a McDonald's parking lot.
For the caption, Betsy wrote that if someone saw Princess at the McDonald's on Shields, they should not feed her "because she don't know how to act & be leaving the house all the time to go walking to McDonald's at night [sic]."
The best part of Betsy's post was that she called Princess a "gold digging" dog that acts like if she was a stray so that people feel sorry for her and feed her burgers. As soon as that post went viral, several people took to the comment section to share their thoughts.
PEOPLE'S REACTION
Most of them agreed that Princess was a very clever dog that knows how to get free burgers. Others blamed Betsy for not paying attention to Princess at nights as she should figure out a way to avoid her leaving the house.
CAUGHT IN THE ACT
Betsy caught the dog in the act when she drove to the store, photographed, and filmed her taking food from a drive-thru customer whose heart melted after seeing Princess doing her "I'm-a-stray act."
PRINCESS DIDN'T CARE THAT MUCH
At some point, the dog walked to Betsy's car but, as soon as she recognized her, she moved on to another car to search for more food. When Animal Behaviorist Corey Cohen watched the video, he couldn't help laughing and commenting on the topic.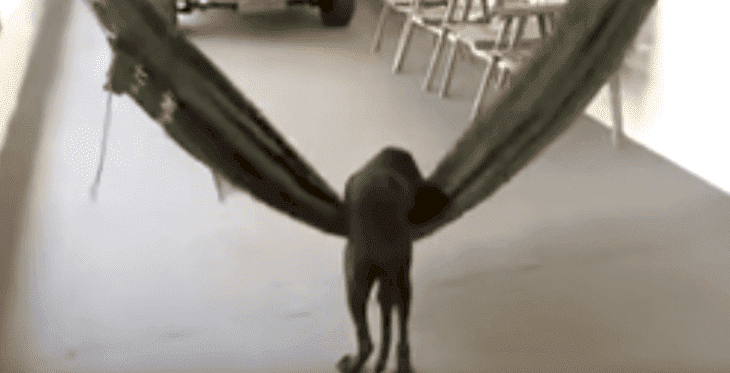 Source: YouTube/Vitour Nhim
"It shows that dogs are far more intelligent and their behavior is more complex than simple 'stimulus/response. That's why we need to treat them as friends and not machines," said Corey.
ANOTHER CLEVER DOG
While uncommon, Princess is not the only dog who has been caught doing something "naughty." Another dog was recorded getting onto its owner's hammock to take a nap after coming back home from the park.
The funny animal struggled for the first couple of seconds but eventually managed to get on it. Dogs like the ones mentioned above keep proving that they are more than animals and that they deserve being treated in the best possible way.
Please fill in your e-mail so we can share with you our top stories!