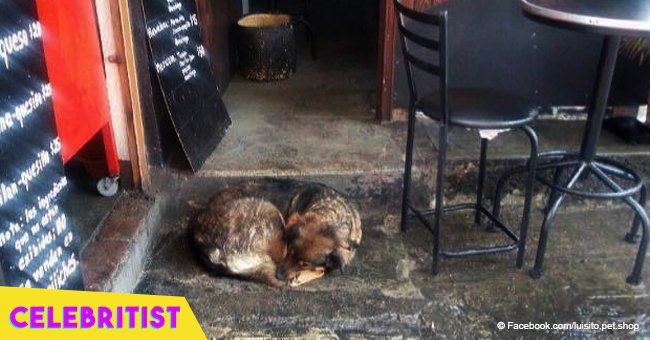 Restaurant owner has perfect response to customers complaining about stray dog on his doorstep
Lola is a stray dog that became the guardian and spoiled pet of the Mexican restaurant Tortas Carísimas.
Even though Lola doesn't have an official home, since the owner of the restaurant can't take her into his humble home, she spends her days outside of the famous restaurant being showered with love and attention from the man and other neighbors.
LOLA'S ARRIVAL
Lola arrived one day at the Mártires of Tacubaya street and, looking for food, walked into the restaurant, where she stole the owner's heart. He didn't hesitate in feeding her and giving her shelter at the local during the day.
However, some customers of the restaurant are not happy about the presence of the lovely dog, as they state is not sanitary for a food establishment to have animals around.
But the owner of Tortas Carísimas will not tolerate any kind of criticism about Lola, and he let his customers know with a Facebook post that has become viral with more than one thousand of likes and almost the same amount of shares.
THE CLIENTS AREN'T ALWAYS RIGHT
Even though some people are charmed by the dog, others have expressed their annoyance about her presence, threatening never to revisit the place and tarnishing the restaurant's reputation with their acquaintances and friends.
Through their Facebook page, the restaurant has stated that Lola has all her vaccines, is clean and even sterilized to avoid having more dogs running around at the place. Still, people kept complaining about the dog, so the restaurant's owner decided to give a final and convincing statement about her.
LOLA STAYS
"If you come to Tortas Carísimas and you see this at the entrance, don't mistake it for an old tapestry or a 3D one. She's Lola, a stray dog that came here about five months ago and is now living permanently with is," wrote the man.
"But if you don't like animals, please be honest and tell me so I can pack your tortas to go because Lola stays here. Period."
People from all around Mexico and other countries have praised the man's kind heart for allowing Lola to stay and even risking to lose some clients because of her. The dog's still a stray because she doesn't have a permanent home, and when the restaurant closes, she's left to her own devices.
However, the restaurant owner and other neighbors make sure to keep Lola well fed and clean, and she's continually receiving love from all of them.
ANOTHER MEXICAN STAR
Another Mexican dog that became famous is an adorable male named Cabrón.
The dog learned how to buy his sausages, and he waits patiently at his favorite store's windowsill until someone gives him a coin.
Then, he drops the coin to the attendant, waiting patiently on his hind legs for the treat that he then eats happily away.
"For those of you who believe animals don't feel and think," wrote Serch Vazques, the man who recorded and shared the video that, to this day, has earned over 17 million views.
Please fill in your e-mail so we can share with you our top stories!