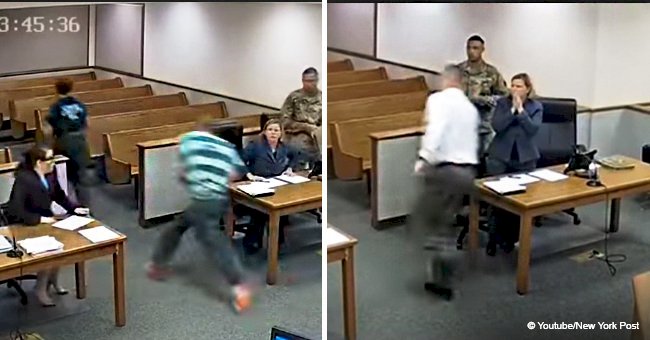 Hero judge chases after suspects escaping courtroom in dramatic video
In the video below, a brave Judge foiled the plans of two fleeing inmates who attempted to escape during a court appearance.
Washington based Judge R.W Buzzard recently went above and beyond to serve justice. He took matters into his own hands when two men scheduled to appear before him tried to escape from the courtroom.
The two men, still handcuffed, dashed through the courtroom and attempted to run out of the building. They both had been previously arrested for burglary but it is unclear what their offense was this time.
Jumping up from his desk, Judge Buzzard threw off his robe before running after the inmates. The men, Tanner Jacobson, and Kodey Howard ran through the courtroom and out the back door.
Unbeknownst to them, the judge was quick on his feet. He jumped up from his table and raced behind them.
The brave judge chased them out the door and down the stairwell. He apprehended Howard before he left the building.
Jacobson was apprehended a few blocks away by authorities. Both men had second-degree escape added to their charges.
The perpetrators are probably hoping they don't meet Buzzard in court again. The Sheriff has said that escape attempts like these don't happen often.
Similar Situations:
While the judge chasing the suspects down may be rare, there have been a few attempted escapes from courtrooms. In May, at Utah courthouse, a man, arrested on drug charges, attempted to escape while handcuffed. He flipped over a second-floor railing and fell to the ground face first. He was apprehended while laying dazed on the floor.
Two years earlier, an inmate on death row escaped from a busy courthouse in Florida. He shed his shackles and prison clothes before escaping through a side door.
The escape shocked those who knew him and brought the courtroom to a standstill.
Please fill in your e-mail so we can share with you our top stories!