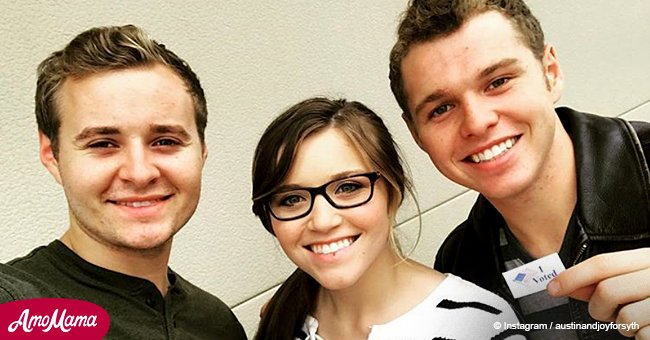 Joy-Anna Duggar sparks heated debate by voting for Republicans in the elections
Joy-Anna revealed on a post how she voted early on the mid-term elections.
Joy-Anna Duggar is coming under fire for breaking the "secret ballot" and telling her followers and fans to vote Republican
The celebrity revealed in an Instagram/austinandjoyforsyth post that she had voted early. The midterm elections are due to take place on November 6, 2018, so presumably, she may have an influence on people who have yet to cast their ballot.
WHAT IS EARLY VOTING ALL ABOUT?
37 states now allow registered voters to vote ahead of Election Day. The idea is to improve voter participation by providing citizens with more options to vote — whether by mail or in person ahead of the election.
According to statistic, more than 47 million people voted early in 2016 out of 200 million registered voters. This comprises a hefty 23% of voters.
FANS DIVIDED BY JOY-ANNA'S INSTAGRAM POST
While some fans praised Joy-Anna's choice, others wrote scathing critiques, pointing out the differences between the lifestyle she espouses and Republican ideals.
"Good for you for letting your voice be heard and for voting Republican. Ignore those who are negative Nellies and perpetuate nonsense about choosing the GOP. Great pic and thanks for sharing!"
JOY-ANNA'S DAD IS A REPUBLICAN
It is not surprising that Joy-Anna and her brothers vote Republican, since her father, Jim Bob Duggar, served the Republican party as a member of the Arkansas House of Representatives from 1999 to 2002, and the family is close friends with prominent Republican Mike Huckabee, who is a former governor of Arkansas.
VOTING CONTROVERSY OVERSHADOWED JOY-ANNA'S BIRTHDAY
The controversial post was just two days before Joy-Anna turned 21 on October 28, 2018, and in the midst of the political ruckus that followed, her big day seems to have been forgotten by her fans and followers.
Read more on Twitter Amomama USA.
A SWEET POST BY HER LOVING SISTER
But not everyone forgot the landmark birthday. Jill Duggar Dillard, 27, posted a lovely picture on social media to celebrate her baby sister's birthday.
"Happy birthday to my Joy Joy buddy! [Love] you and so happy we got to celebrate together the other day! Hope your day is splendid!"
Although she is only 21, Joy-Anna is the mother of 8-month-old Gideon and has been married to husband Austin Forsyth since May 2017.
Joy-Anna is the fifth daughter born to Jim Bob Duggar and Michelle Duggar and the ninth of 19 children. She became a celebrity when her family participated in the reality show "19 Kids and Counting" from 2008 to 2015. Since 2015, she and her family have participated in a spin-off series called "Jill & Jessa: Counting On."
Please fill in your e-mail so we can share with you our top stories!