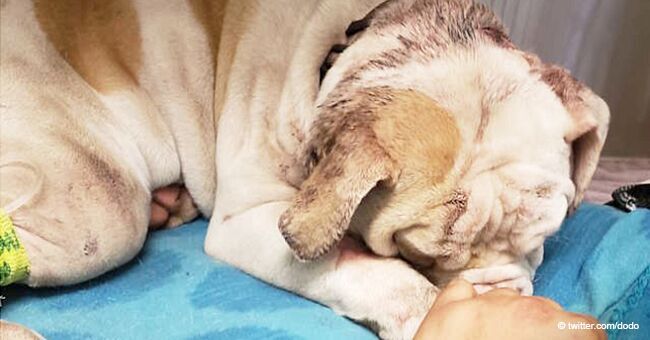 Poor dog was set to be euthanized until a rescue worker took pity on her
An animal welfare officer and a badly injured dog set to be euthanized after its owner dropped it at animal control facility made a strong connection just in time for the dog to be saved.
Marzipan and two other dogs were taken to the City of Albuquerque Animal Welfare Department by their owner to be euthanized, as the three animals were in terrible condition and she believed there was nothing to do about it, reported The Dodo.
According to the unidentified woman, two of her dogs had been shot and one of them was given poison, so the better thing to do was to put them out of their suffering. Read more on our Twitter account @amomama_usa
Adam Hevey was one of the officer in charge of the reception and entry of the three dogs in the center, and after he saw the bad shape these animals were in, he was particularly drawn to Marzipan.
"Marzipan just sat still and looked directly at me while I documented the conditions. She was swollen, bleeding and filthy, but the second our eyes met, I had a visceral feeling of connection to this dog that I cannot explain."
-Adam Hevey, The Dodo, October 24, 2018.
After an evaluation, Marzipan and the other two dogs were treated for their injuries. It was found that Marzipan was, in fact, shot twice in the head, and she was about to enter shock when the veterinarians fixed and cleaned her wounds.
Even though Marzipan had little strength in her and was barely breathing, she still managed to show excitement for being in the company of so many dogs at the shelter and after a few days Marzipan and the two dogs that arrived with her were back in their feet.
During Marzipan's slow but promising recovery, Hevey found himself constantly thinking about her and how he felt when she kept looking at him when they first met.
"Every day I would carve out time to go to treatment where she was being housed and sit with her for at least a few minutes. This graduated to taking her out of her treatment area to use the restroom when she was stable enough. I even did this on one of my weekends because I was so worried about her condition," shared Hevey.
By the time Marzipan was ready to leave the shelter to live in a proper home with someone who call her family, Hevey was convinced that she was put in his way for a reason and he took him as his dog.
"In that first second of eye contact, Marzipan embodied every sad story, every awful situation, every bad ending I have experienced on my job. She made every time I have lost sleep over the suffering of animals I have witnessed into her own form and with a glance told me that I was doing the right thing, and that I would be OK," he concluded.
Marzipan was very fortunate enough to be given a second chance in life, thanks to the efforts and love of the team who took care of her in the shelter. But it is hard to believe that her previous owner was so careless and was willing to let her die without a fight.
The workers of Harris County Animal Shelter in Texas couldn't believe it when a perfectly healthy and good-looking dog was dropped at the facility to be put down, for no other reason than the animal being 20 years old.
After receiving the dog, named Radar, the people in charge knew that there was no reason for him not to enjoy his old age with a loving family, and they took to Facebook to try to find someone who wanted to take him home.
A tiny kitten found his savior in a policeman who fell in love with her after someone called about the young animal wandering around a busy intersection.
Officer Cardin answered the call and brought the kitten back to the station to wait for animal control to take care of it. But before this happened, Officer Wallace's shift started and once he saw the little cat, he knew he couldn't possibly let her go.
At the end of his shift, and after having spent 10 hours with his newest friend, instead of handing the kitten to animal control he took her to his home as his pet.
Please fill in your e-mail so we can share with you our top stories!