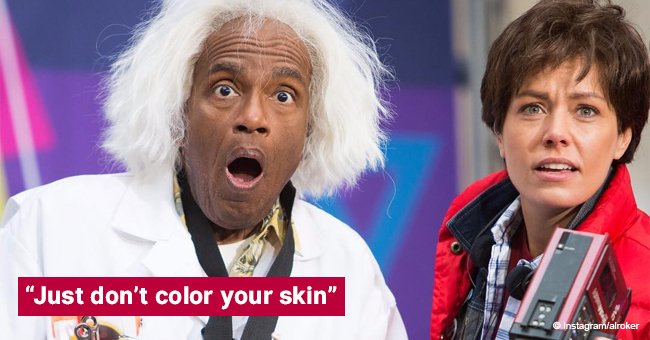 Al Roker claps back after his Halloween costume is called racist amid Megyn Kelly controversy

"Today" show weatherman Al Roker is being criticized for wearing "whiteface" for Halloween.
Hot on the heels of the Megyn Kelly scandal over "blackface" Halloween costumes, it is the turn of her colleague,"Today" weatherman Al Roker, to face criticism over what detractors are calling "whiteface."
The ruckus began when Roker, 64, dressed up as Doc Brown, the eccentric time machine inventor from the "Back to the Future" trilogy.
Roker responded to the criticism on his Twitter/@AlRoker explaining why his costume was not "whiteface" even though Doc's character is a Caucasian.
"I can be Doc Brown, and I wear the outfit and wig and not change my skin color if you're white, you can be President Obama if you want. Just don't color your skin!"
Al Roker, Twitter/@AlRoker, Octoer 31, 2018.
"BACK TO THE FUTURE" TURNED INTO A BLAST FROM THE PAST
Roker and his fellow meteorologist Dylan Dreyer, who dressed up as Marty McFly, decided to dress up as their favorite characters from Michael J. Fox' sci-fi hit from the 80s.
Roker wore a white wig and white overalls – but didn't alter the color of his skin to portray the "white" character. And this, he explains, is the difference.
ROKER CALLED A "HYPOCRITE"
Roker, who had criticized Kelly, was accused of hypocrisy for dressing up as a Caucasian personage when he'd dissed his colleague for defending "blackface." Other people defended Roker, saying that he hadn't changed the color of his skin.
Read more on Twitter Amomama USA
ROKER'S CRITICISM OF KELLY
Roker had been vocal in his opposition to Kelly's attitude, He had declared that she owed African American people an apology for advocating for "blackface."
BLACKFACE AND THE HISTORY OF RACIAL DISCRIMINATION
"Blackface" had been an integral part of the minstrel show from the beginning of the 19th century, in which white performers in make-up played the role of black people, portraying them as dim-witted, lazy, and superstitious.
"This is a history going back to the 1830s minstrel shows to demean and denigrate a race. It wasn't right."
Al Roker, Twitter/@AlRoker, Octoer 31, 2018.
Kelly apologized on air for her faux pas, but the NBC network canceled her "Megyn Kelly Today" show.
Please fill in your e-mail so we can share with you our top stories!