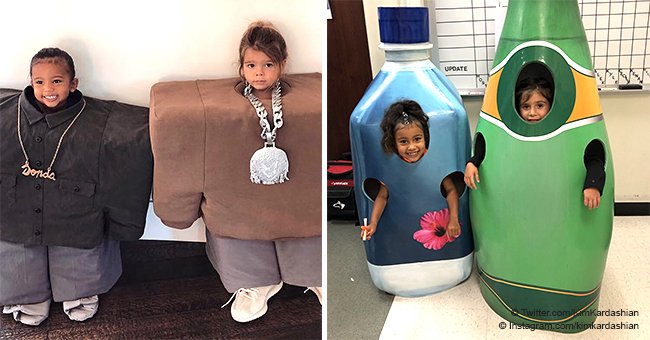 North and Saint West look adorable dressed up as Kanye and Lil Pump for Halloween
As it should be, Halloween season is an interesting time for the Kardashians, as they all put some extra effort when it comes to their costumes. This year, North and Saint West didn't look too far, as they decided to go as Kanye and Lil Pump for Halloween.
Of course, the Kardashian children don't only have one Halloween costume, as Kylie's kid Stormi, Khloe's kid True, and Kim Kardashian's children have had more than nine costume changes.
However, out of all Kardashian children, it was North and Saint that decided to show a little love for their father, by dressing up as him for Halloween. Of course, Kim was behind the brilliant idea, even convincing Kourtney to have her own children dress up as Lil Pump to join their little cousins.
Aside from their portrayal of the famous rappers, North and Penelope also went out as water bottles, particularly artisan drinking water Fiji and sparkling water Perrier. It seems that the two girls go to the same school and went as partners, which we assume they always do, given that they're not only cousins, but neighbors, and with mothers who are each other's best friends.
Meanwhile, the younger bunch of Kardashian children also made sure to put up a show this Halloween, with True Kardashian dressed up in more than two outfits. First, proud mom showcased the both of them wearing unicorn onesies, celebrating their first Halloween together.
Next, a sweet looking True smiles as she dons a panda suit, looking huggable as ever. That wasn't the last of her costume changes, however, as she donned three more.
In another Instagram post by Khloe, little True wore more animal prints, particularly a pig onesie, a sheep onesie, and a tiger onesie which Khloe joined her in. Baby tiger and mommy tiger then had a photo shoot outdoors, particularly greenery that overlooks the California mountains.
Kylie's little Stormi also had two costume changes, starting off as a butterfly with her doting mom, and then, changing to a clever and more personalized costume. Jenner and her little Stormi Webster were dressed in gold latex clothing, captioning it with "Stormi weather", showing how they were lightning and, well, stormy weather for Halloween.
The Kardashians definitely know how to put on a show, taking every opportunity to slay, and they never disappoint.
Please fill in your e-mail so we can share with you our top stories!