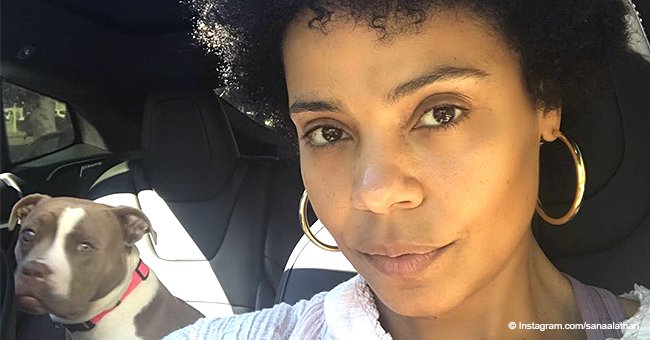 Sanaa Lathan shows off her natural hair growth while her moody dog melts hearts in new photos
Sanaa Lathan, the actress best known for "Love & Basketball," took to Instagram to share a photo of her and her "BFF." Her beautiful hair was one of the highlights of the post.
In it, Lathan appeared wearing a sleeveless grey shirt with a white cardigan on top. With little-to-no makeup, she was staring directly at the camera with a serious look on her face.
On the back seat of the vehicle, her "BFF" Xena Warrior Princess, a Pitbull, was side-looking at the camera, too. In the second and third images of the slideshow, the dog appeared facing the phone and Lathan was smiling.
LONG HAIR
One of the principal aspects of the pictures was her hair. Looking that her hair has grown that much was surprising for many, especially because she had to shave it for her role on "Nappily Ever After."
PEOPLE'S REACTION
As soon as she uploaded that post, her followers took to the comment section to share their thoughts. Most of them praised her beauty and hair, saying that it grew back very fast. Others gushed about Xena Warrior Princess, admitting that she looked like an old man and that she was "a whole mood."
BEING MISTREATED BY FELLOW ACTRESSES
Lathan uploaded that photo a couple of weeks after she made some revelations about being mistreated by other female actresses in the entertainment industry when she started her career as an actress.
While promoting "Nappily Ever After," she revealed that some women that people "may know" treated her "just horribly." While Lathan didn't call any name, she revealed that she never thought she would get a feeling of competition, jealousy, and "weird vibes on set" while working with those actresses.
SHAKING OFF THAT NEGATIVITY
Thankfully, Lathan didn't let those negative experiences shape her career and personality, and she is now part of a production that, according to her, represents the "beginnings of inclusivity."
"When I was coming up, we were read fairy tales, and fairy tales is kind of what helps us determine what our values are as little girls. And when you read Cinderella…and you don't see yourself reflected, what does that do to you on a deep unconscious self-esteem way?" said Lathan.
BITING BEYONCÉ'S RUMORS
Earlier this year, Tiffany Haddish said that an actress had bitten Beyoncé in the face during a party. Even though she didn't tell the name of that person, it was later stated that Lathan was to blame.
During an interview Lathan had with Health magazine, she pointed out that it was the most absurd thing she has ever been involved with. The actress added that she adored Beyoncé and that she would never do such a thing to her or anyone else.
Please fill in your e-mail so we can share with you our top stories!