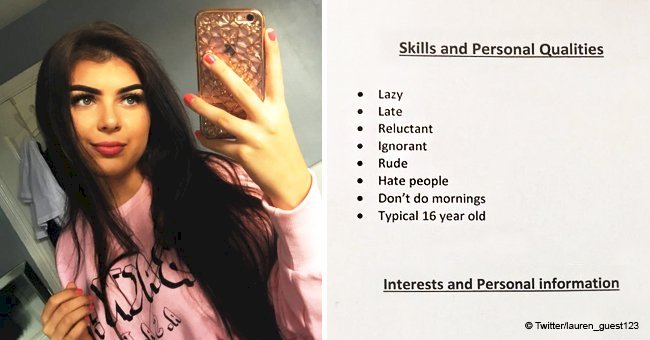 Daughter asked dad to write her CV, and the brutally honest resume went viral
British teen learns a hard lesson when she asks her father to help her write her CV. The fed-up dad wrote a CV worthy of viral stardom using brutal honesty.
Everyone has gone through the difficult work of writing your first CV. More often than not, teens turn to their parents for help.
That's what this British teenager decided to do. She asked her dad to help her out by writing her CV for her.
However, the frustrated dad took the opportunity as a chance to lay all his frustrations out. The super honest approach resulted in a hilarious CV.
In typical dad fashion, the entire CV aims to roast his daughter, Lauren Moore. Under work experience, the brutally honest dad jotted down some of Lauren's Skills.
He included not listening, browsing Facebook and even chopping people's toes off with the spade. He listed her personal qualities as lazy, late, reluctant, ignorant and rude.
Lauren took to Twitter to express how hilarious she found the CV. She said, "Remind me not to let my dad do my CV for me."
One Twitter user summarised the thoughts of everyone with a simple GIF:
PROVING HER DAD WRONG:
Since the CV does not paint her in the best light, Lauren decided to take matters into her own hands; she proved her worth when she aced her GCSE's.
In direct contrast to her dad's predictions, Lauren did really well on her GCSEs. She got a grade 4 in English Language, English Literature, and Maths.
She nailed a grade 5, in Fine arts. Lauren also bagged a C in General Studies. While the CV was a joke, her dad did offer her actual help.
He provided Lauren with some work experience at his Co-Op Funeral Care job.
Please fill in your e-mail so we can share with you our top stories!