Distressing video shows delivery man jumping in the river to save a drowning girl
A surveillance camera caught the moment when a young girl fell into the water while her helpless friend watched in shock. Then, a young delivery man appeared on the scene just in time to save the girl from a terrible fate.
A Chinese man has earned worldwide attention thanks to a video that shows his quick reaction to save the life from a little girl who had probably drowned if it wasn't for him. The clip has gone viral with over 90k views and shares.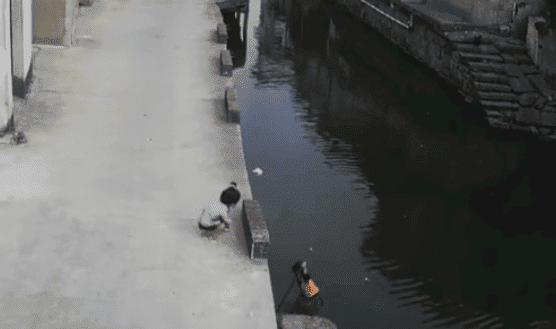 As reported by Daily Mail, a six-year-old was washing a mop in the canal in Shaoxing, Zhejiang in the company of a friend. As she was stepping down the steps to do a better job with the mop, she lost her footing and fell backward on the water.
The girl struggled to keep her head above the water, as her friend looked helpless from above. Luckily for her, in that exact moment a delivery man passed with his motorbike for the place, and after noticing there was something wrong, he stopped abruptly and got into action.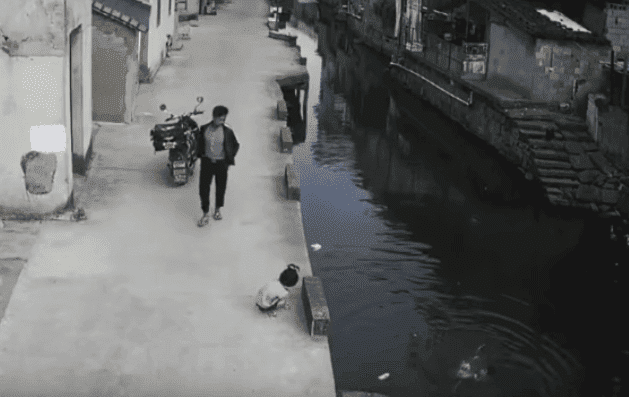 "I saw movement in the water and was shocked to see a child drowning," said the man, identified as 23-year-old He Linfeng, to Beijing News.
Linfeng removed his jacket and pulled his phone out of his pocket before jumping into the river without hesitation and grabbing the little girl in his arms. He took her back to the riverside, making sure she was okay before delving back into the water to find her shoe.
"I saw that her shoes were missing," he said. "I was wet already anyway, so I decided to go back in to get her shoes."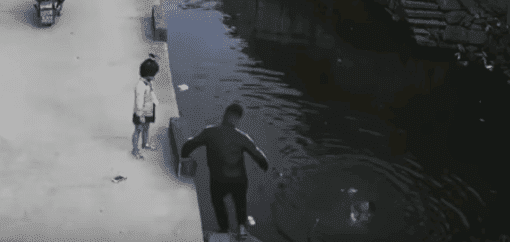 THE AFTERMATH
According to reports, he then made sure to get the home safely to her house, as her parents were working.
Linfeng works for MeiTuan, a Chinese food delivery service backed by Tencent. After the video was published on social media, the company compensated him with the title of "model driver" and a cash prize for his heroic actions.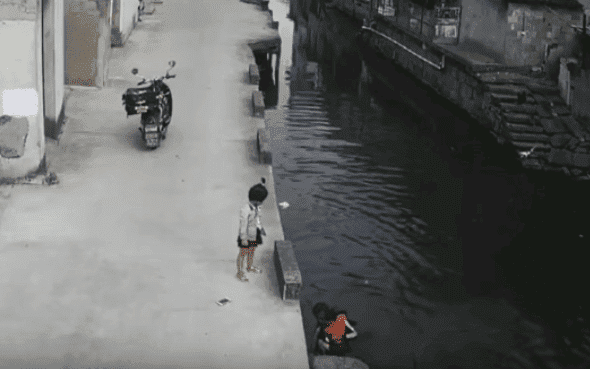 This shows that there are still good people in the world willing to risk it all when it comes to helping someone else or saving a life, especially when it comes to kids.
Another similar heroic act was performed by a 9-months-old pregnant woman, who jumped into the water to save a drowning child without letting her huge baby bump to get in the way.
THE HEROIC ACT OF A PREGNANT WOMAN
Rachel Donaire, wife of Filipino boxing champ Nonito Donaire Jr, let her maternal instinct kick in when she noticed that the son of her friends was drowning under the water while they celebrated the 4th of July a few years ago.
"Rachel didn't hesitate to jump in to save the child but injured herself in the process," Donaire tweeted. "She moved so quickly it scared me."
Rachel was admitted into the ER the next morning for fetal monitoring after experiencing some pain, and she was diagnosed with a strained ligament.
ADMIN: Rachel Donaire was admitted in a hospital for fetal monitoring after saving a drowning child. During (cont) http://t.co/jCzERdL7vN

— Nonito Donaire (@filipinoflash) July 6, 2013
A month later, the couple welcomed their first son into the world, a healthy boy named Jarel.