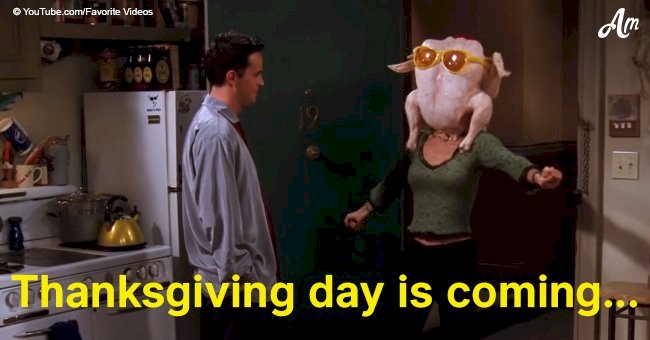 Ready for Thanksgiving? Prepare for it with the best 'Friends' traditions
To spice things up a little this Thanksgiving, traditions from 'Friends' are sure to make it anything but ordinary.
Ten seasons of 'Friends' means ten Thanksgiving episodes, and in each of them, a typical 'Friends' tradition got added. Monica Geller hosted each and every one of them and there was never a dull moment.
The 'Friends' Thanksgiving tradition begins during the first episode where they all end up together after everyone's plans failed.
In season 3 they add to their tradition after a series of events lead to them not being able to prepare Thanksgiving dinner, and Monica ended up making three different types of potato.
Another tradition got added by Monica, the pursuit of an ill-fated romance. After getting ice in her eye Monica ends up seeing her ex-optometrist boyfriend Richard's son, he treats her eye and the attraction between them cause her to invite him over for dinner. Much to the dismay of the rest of the gang,
It won't be 'Friends' Thanksgiving without dancing with a turkey on your head, like in season 5 when Monica and Chandler were secretly dating. After Chandler got upset Monika tried to cheer him up by dancing around with a turkey over her head. It definitely worked as Chandler told her that he loved her for the first time.
However, a tradition that can not be left out is trusting your friend to make a dessert when you know it's going to taste out of this world, and not in the good sense.
Rachel attempts in making a traditional English trifle but Monika did not make a backup, so they ended up eating the beef sauteed and pea dessert to avoid hurting her feelings.
With plenty of food being made on Thanksgiving the leftovers have often made for interesting dishes the day after. However, Ross's snack proves to be quite tasty as he said:
"You see my sister makes these amazing turkey sandwiches. Her secret is, she puts an extra slice of gravy-soaked bread in the middle – I call it the Moist Maker."
In a video posted by Binging with Babish, Rea shows how exactly to make the 'Moist Maker.'
With Thanksgiving Day on November 22, and Black Friday the following day online sales are much higher than physical traffic, and so far over 60 stores announced that they will be closing on Thanksgiving.
Retailers that have confirmed they will be closed on that day are Costco, IKEA, Sam's Club, BJ's Wholesale Club, and Lowe's. Home goods stores like Crate and Barrel, At Home, Hobby Lobby, Home Depot, HomeGoods, Pier 1 Imports, and HomeSense
Big stores like Target, Walmart, Best Buy, Macy's and Kohl's are likely to remain open. Closing a store on that day could mean a big loss in income for that day, however, stores understand that Thanksgiving is about family, and as a result, many would prefer to be with their family instead.
Please fill in your e-mail so we can share with you our top stories!