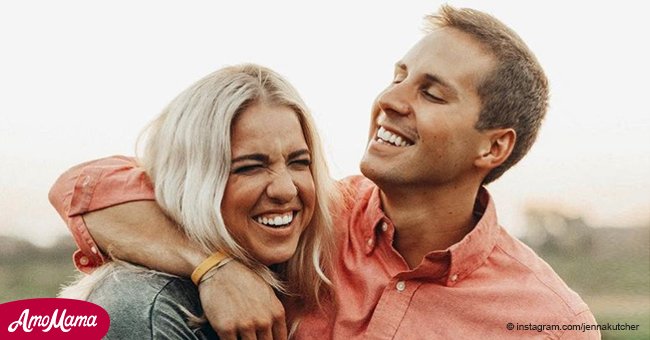 Woman harshly criticized because her husband is 'too handsome' for her
When the wedding photographer Jenna Kutcher got a message asking how she managed to land a guy as good looking as her husband, she wanted to send a message to all of her critics.
On March 14, Jenna, 29, from Fort Atkinson, Wisconsin, took to Instagram to share a photo of herself and her husband Drew Kutcher, 31.
Taken by photographer Lindsey Roman, the sweet snap shows the couple wearing swimming outfits and joyfully kissing while walking on a beach in Hawaii.
The image, which garnered over 149,000 likes, came with both a surprising and inspiring caption.
Follow us on our Twitter account, @amomama_usa, to learn more.
Jenna revealed that somebody sent her a message saying they "couldn't believe [she] managed to land a guy as good looking" as Drew.
"I'll be honest that I was taken aback," Jenna wrote. "Part of my insecurity with my body has stemmed around being married to Mr. 6-Pack himself."
"Why should I, a curvy girl get him? I feel unworthy and when I write narratives in my head that because I am not thin, I don't deserve him."
She continued, "This man has embraced every curve, every dimple, pound and pimple for the last ten years and has always me reminded me that I'm beautiful even when my inner dialogue doesn't match. So yes, my thighs kiss, my arms are big, and my bum is bumpy but there is just more of me for him to love and I chose the man that could handle alllll that (and so much more!)."
Jenna received positive remarks from her more than 670,000 Instagram followers.
In another Instagram post, she wrote, "We've spent the last few days gawking at the fact that society believes that seeing two people (who happen to have different body types) in love is newsworthy, and yet we are embracing it whole heartedly because it means that we get to share our message with YOU, with the world."
"We are not our bodies. I am not defined by titles like 'curvy' or plus size, Drew is not defined by 'Mr. Six Pack,'" she added.
"At the end of the day, we are the girl and the guy who fell in love and started dating in college after [Drew] lost a bet that led to a first kiss – the rest is history," she continued. "Our story is has held ups and down, light and loss and we've chosen to show up and turn the mess into our message. Because we believe the world is hungry for REAL and going viral has proven that."
Drew also posted his own photo on Instagram and said he was overwhelmed by the positive response.
Please fill in your e-mail so we can share with you our top stories!