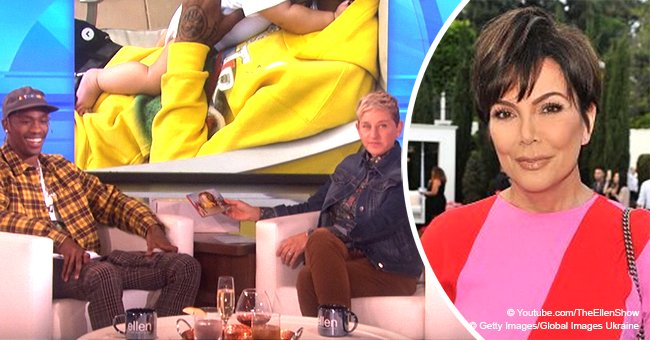 Travis Scott reveals how Kris Jenner 'held him down' when daughter Stormi was born
Travis Scott recently visited Ellen DeGeneres on her show and gushed about his 9-months-old daughter, Stormi Webster. The rapper confessed he was scared when his girlfriend Kylie Jenner gave birth, but her mom, Kris Jenner, was his biggest support at the time.
The Texas-born rapper has visited "The Ellen Show" before, but he'd always perform and leave the venue. This time around, he sat down to have a conversation with the famous host, and he didn't disappoint.
A GREAT YEAR FOR SCOTT
After DeGeneres teased him about asking for a variety of alcoholic beverages instead of drinking water like the rest of the guests, the pair delved into Scott's incredible year, starting with the birth of baby Stormi and going through the release of his album "Astroworld," which received some of the best critics of the year.
Travis thanked Ellen for her words and even got her a pair of the shows he designed in partnership with Nike. Then, a photo of him and Stormi was shown on the screen, which made the rapper confess how hard it is for him to leave her while he's touring around the country.
"I had to leave her to come up here, and it was just so hard," he said. He also revealed that the adorable girl is already starting to walk and has a lot of energy. "She's so animated. She's just running around the house right now on this new walker," he said, "and she's turning into a full-blown runner."
BEING ON THE DELIVERY ROOM WAS SCARY
DeGeneres then brought up the topic of Kylie's childbirth, asking Scott if its true that Kris Jenner helped deliver the baby. "That is a fact, yeah," Scott agreed. He also revealed that it was Jenner who guided him through the whole process since he was freaking out.
"She held it down because it was so scary," he said.
Scott confessed that he was especially scared about the placenta, making the audience laugh as he explained:
"There's this thing called the placenta, that I've just been hearing about? Oh my god. So, I was fearful of all that. But I cut the umbilical cord. But, yeah, [Kris] held it down. Mama KJ, she's the best."
YOUNG PARENTS
Travis also told Ellen that he was scared because he and Kylie are still young to be parents, but after holding Stormi in his arms, all his doubts dissipated.
"Going into it, I was nervous and scared, because we're both young. But, you know, when you first hold a baby in your arms, it's uncontrollable. I never thought I could just love something so hard, you know? It's crazy."
Scott and Jenner started dating around May last year, and one month later the reality star got pregnant, so they didn't have time to explore their relationship in depth before hopping on the parenthood train.
KYLIE'S INTAKE ON MOTHERHOOD
But the young couple doesn't have any regrets.
Speaking to her sister, Kendall Jenner, for a Vogue Australia cover, Kylie gushed about her relationship with Travis and his role as a father, saying:
"We both experienced this for the first time, so I love learning together and just watching him with her. He's so good with her, and she's really obsessed with him."
The 21-year-old makeup mogul also admitted that being a mom has shifted her perspective on life and the future.
"I think the way I look at life has changed since becoming a mum. I think more of the future. I used to live each day as it came, and now I look at the future more," she said.
Rumors about the couple tying the knot in secret have been swirling around the web for months, and now that Ellen referred to Kris Jenner as Travis' "mother-in-law" fans are more and more suspicious on the legal status of the young couple.
Neither of them had addressed the rumors, as they try to keep their relationship out of the spotlight for the most part.
Please fill in your e-mail so we can share with you our top stories!