School bully uses disabled boy as a stepping stone as she crosses the creek
Chilling footage captured a school bully's abuse of a 14-year-old disabled boy. 
An incident which occurred at Glace Bay High School in Nova Scotia, Canada has brought bullying in North American high schools back into the headlines.
An 18-second video posted on Facebook/Brandon Jolie captured a shocking instance of unthinkable cruelty perpetrated against a disabled 14-year-old boy, reported The Chronicle Herald on November 9, 2018.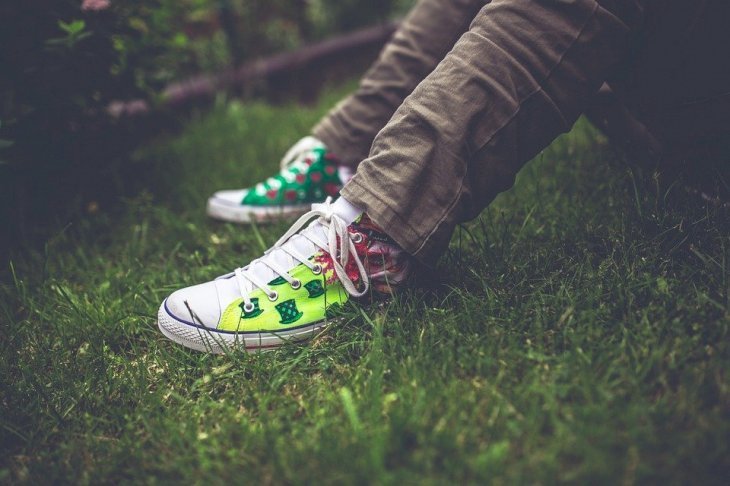 "I've been bullied before and I tried to take this to the office and they ignored me like they ignored me back in September. I was threatened." 
 Brett Corbett, The Chronicle Herald, November 9, 2018.
THE VICTIM SUFFERS FROM CEREBRAL PALSY
In the video, a boy named Brett Corbett who suffers from cerebral palsy is seen lying face down on a shallow stream, while a teenaged girl steps over him, using his body as a bridge.
The clip was captured by bystanders who can be heard laughing on camera and witnessed by over 30 pupils of the school, one of which threw a rock at Brett.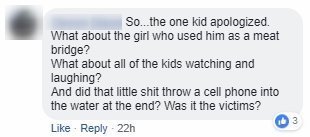 BRETT'S BULLY WAS SUSPENDED
Terri McEachern, Brett's mother, said that the video had forced the school to take action and suspend the girl who had walked over her son, and others who had participated in the incident. She had spoken to the school before the incident went viral and had received no assurance that it would be dealt with.

PUBLIC OUTRAGE AT BYSTANDERS
As the video went viral, public outrage erupted directed at the students who stood by and permitted the bullying to proceed unchallenged.
"To stand by and not only allow it to happen but to take a video as if it's a joke! It's 2018, show some respect for each other and empower each other rather than claw other people down to build yourself up."
The video has garnered over 400,000 views and hundreds of horrified comments extolling parents to educate their children and give them better moral grounds to stand on.
Brett's situation at school has not improved, and his mother revealed that he had been told by an assistant teacher that it was "his fault" that his fellow pupils were in trouble.
LINK TO VIDEO FACEBOOK/BRANDON.JOLIE
Read more on Twitter Amomama USA.

AUSTRALIAN CHILD HUNG FROM A TREE BY BULLIES
In Perth Australia, a 10-year-old girl with a heart defect was targetted by playground bullies and subjected to unprecedented cruelty.
Amber Yoon was hung from a tree with a skipping rope by a fellow student at Queen of Apostles Catholic School in Riverton.
"(The other student) grabbed Amber, put it over her neck and started wrapping and wrapping and Amber put her fingers like this and held it and was saying, 'no, no, no' until she couldn't speak anymore."
Belinda Yoon
Amber's mother, Belinda Yoon, revealed that the attack left her fragile daughter broken and traumatized:
"Mum all I could think of was, is if I'm dead, how am I going to be able to be their friend?"
Yoon said that Amber survived the attack because a teacher saw the incident and rushed over to rescue her. This was not the first time that Amber had been tormented by her school mates. and the school was well aware of the problem. The incident is being investigated by police as an assault.
Like Brett Corbett, Amber Yoon is vulnerable, and an easy target for bullying, and without the protection of their schools, defenseless.