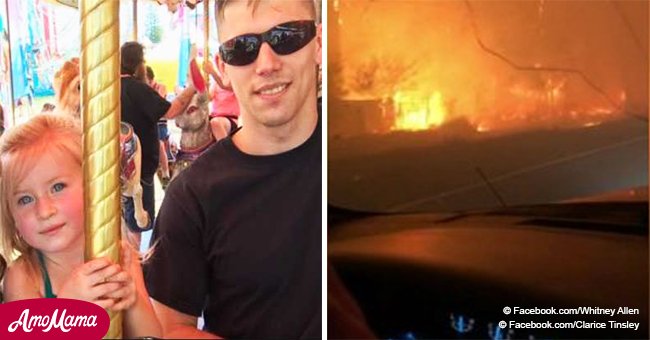 Dad sings to his little daughter to keep her calm as they drive through wildfire
A California father drove his car through a fiery gauntlet, all the while soothing and comforting his little daughter.
The wildfires that have been raging through the Californian forests has destroyed entires towns and left thousands homeless.
Whitney and Joe Allen of Paradise have been forced to leave their house, pack their belongings into their cars and drive away with their children from the home that had been theirs for two generations.
They recorded their exodus from Paradise and posted the video of their drive through a gauntlet of fire with their children on Facebook/Whitney Allen on November 8, 2018.
A TERRIFYING EVACUATION IN THE MIDDLE OF THE NIGHT
As the fire closed on their home, Whitney and Joe Allen were forced to evacuate along with their children, packing a few belonging into their cars and driving away from their hometown.
Whitney took the couple's infant son Jordan in one car, and Joe took their daughter Olivia in the family's second car. As he drove through the crowded streets with the fire encroaching on either side, Joe started filming the hellish scene on his cell phone.
FIRES BLAZED JUST FEET FROM THE CAR
In the video, Joe can be heard calmly soothing a frightened Olivia who is afraid they will be caught by the fire. He calmly tells her that they will not "catch fire" and sings sweetly: "Baby it will be alright!"
"WE SHOULD GO BACK HOME"
The anxious little girl keeps telling her father that she wants to go back home, but he tells her that they have to leave and will return when it's more "Princess Poppy." At one stage, the fire burning on either side of the road just feet away from evacuees' cars.
SAFE AT LAST
After a harrowing drive, during which Joe carefully maneuvers his car through the road packed with rescue vehicles while he keeps his daughter calm, they finally leave the disaster zone. As they leave the smoke and the fire behind, Olivia cheers: "You did it!" Joe corrects her, saying: "We did it together!"
FACING AN UNCERTAIN FUTURE
The Allens were lucky, they made it out safely and were reunited. Many people forced to evacuate have lost touch with family and friends in the ensuing chaos.
The Allen family like so many Californians have lost everything. They have started a GoFundMecampaign to help get them back on their feet.
The Camp Fire is now considered the most devastating on record, with an estimated 50 fatal victims, and 7,600 homes destroyed by the fire.
STARS AMONG THE 7,600 WHO LOST THEIR HOMES
Among the 7,600 homes burnt, was celebrity actor's, Gerard Butler. Butler posted a series of clips and photographs of the rampant destruction of his neighborhood on Twitter:
"Returned to my house in Malibu after evacuating.(...) Inspired as ever by the courage, spirit and sacrifice of firefighters. Thank you @LosAngelesFireDepartment."
Butler called on the public to support the Los Angeles Fire Department and to help the refugees who have lost everything they own to the fire.
"A lot of people lost everything and will have to rebuild from scratch. (...) Please turn your support to those who need it most here, and throughout California."
Butler considers himself "one of the lucky ones" since his house was only partially destroyed by the Wollsley fire.
Please fill in your e-mail so we can share with you our top stories!