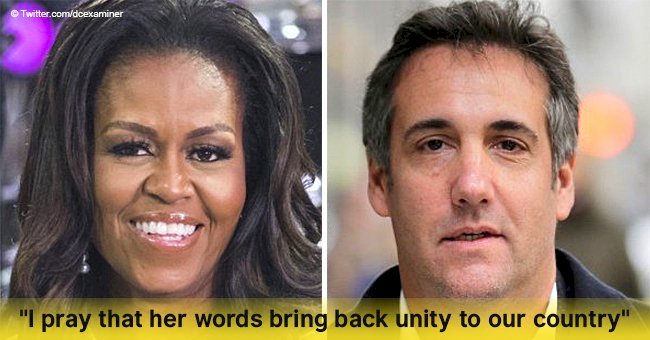 Michael Cohen heats up talk after revealing that he prays Michelle Obama will unify the country

Michael Cohen, President Trump's former ally tweets his faith in Michelle Obama after watching her discuss her memoir.
President Donald Trump's former lawyer, Michael Cohen paid a compliment to Michelle Obama while watching 20/20's television special "Becoming Michelle: A First Lady's Journey with Robin Roberts."
Michelle Obama's interview is part of the promotions for her new memoir, "Becoming" which is, indeed, becoming a controversial book.
Cohen tweeted his respect for Obama after watching the show and threw shade on his former employer in the process.
"Watching Becoming @MichelleObama on #abc2020 and pray that her words bring back unity to our country."
THE FALLOUT
Cohen was a staunch supporter and fixer of Trump during the 2016 campaign trail, but things turned sour right before he pled guilty in August to charges related to financial abuses during the campaign.
He claimed Trump instructed him to pay off Stormy Daniels and Karen McDougal, two women who alleged affairs with the president. Trump denied this.
THROWING SHADE AT TRUMP
In October, Cohen, who re-registered as a Democrat, encouraged citizens to vote to prevent more "craziness." He made the plea on CNN saying,
"Listen, here's my recommendation. Grab your family. Grab your friends. Grab your neighbors. Get to the poll because if not, you are going to have another two or another six years of this craziness."
WHY OBAMA WILL NEVER FORGIVE TRUMP
Obama's interview with Roberts shed light on her despise of the current president. She indirectly criticized him for his lack of knowledge and tact.
"Being the commander-in-chief is a hard job. And you need to have discipline and you need to read and you need to be knowledgeable. You need to know history, you need to be careful with your words."
"But voters make those decisions. And once the voters have spoken, you know, we live with what we live with."
In her book, she delves even deeper into her hate for Trump who she accuses of threatening her family's safety after insinuating her husband, Barack Obama wasn't born in America.
For that, she says, she could "never forgive" him.
TRUMP LASHES BACK
In response, Trump clapped back and accused her of milking controversy to gain mileage for her book.
"She got paid a lot of money to write a book and they always expect a little controversy."
As for Obama's comments on not being able to forgive him, Trump had this to say.
"I'll never forgive [Barack] for what he did to our United States by not funding it properly. It was depleted. It was old and tired, and I came in and I had to fix it, and I'm in the process of spending tremendous amounts of money, so I'll never forgive him for what he did to our military."
Please fill in your e-mail so we can share with you our top stories!