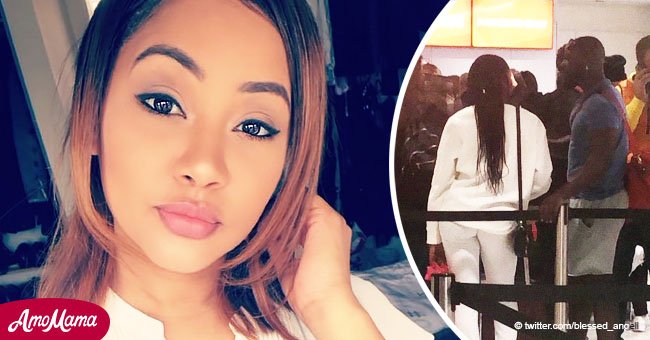 Girlfriend catches thieving boyfriend with his mistress at an airport and gets payback
First, she thought it had been a scammer who stole the 1,200 pounds from her bank account, but then the dental hygienist discovered that the thief was her ex-partner.
Using Twitter as the main source, Angel Exford told the whole story of how she discovered that her ex-boyfriend, Michael Fehsenfeld, stole her bank information and extracted around £ 1,200 to take his new girlfriend on a trip to Paris, among other things.
In her @blessed_angell account, the 29-year-old woman explained that with the help of her friends, she managed to draw up a plan to catch her former boyfriend and report it to the police.
In a row of tweets, Exford, who lives in the UK, recalled that during a dinner with friends he told her that he had lost his wallet, so she agreed to pay the bill and revealed her bank account information. The pair had only been a couple for two or three months.
"This is the night I think he took my bank information," wrote the twenty-year-old on Twitter, adding that this was the last time she saw him in person at that time.
That same week, the couple put an end to the relationship and Fehsenfeld blocked Exford from all social media, which she found very strange.
A month later, the dental worker began to notice how her money disappeared from the account little by little in suspicious transactions.
FIRST SOSPECTS
At first, she thought it was a scammer who used her bank account to buy flowers, pay parking fines, a hotel reservation, a subscription to Sky TV and even Like on Instagram.
The tipping point was when two flights to Paris and the included accommodation were paid with your card. "This is where it got interesting," Angel Exford said in a tweet.
The African American dentist told that an EasyJet transaction appeared in her account, there was a flight reference, which she used to track the details. The awkward man and his new girlfriend were exposed as the people reserved to travel to France.
As Angel could not see his ex's posts on social media, she got her friends to follow him to find out what he was doing. So she finished corroborating that Fehsenfeld was the thief.
"Thanks to my friends who helped gather all the evidence on Twitter where he wrote that he was going to Paris, I was able to go to the police," he said.
THE REVENGE
Since the tickets were paid with her card, the dental hygienist had access to all the data she needed. She calculated the time of the flight from Gatwick airport and decided to approach the police.
On October 5, Fehsenfeld was arrested and pleaded guilty in the Green Magistrates Court of Camberwell on October 22. "He said he did it out of spite, because of how things ended between us," Exford explained on Twitter.
On October 22, Fehsenfeld was sentenced to 150 hours of supervised community service. She decided to publicly expose the love thief in social media, and since then her publication has gone viral with thousands of "likes" and retweets.
THEIR DIGNITY SUFFERED
Another girl who also decided to share her story in a post, but who preferred to leave her name in anonymity, told through the Reddit page how she disappeared from the life of her ex after discovering him naked in bed with another woman.
She said that she saw his partner lying down with another one in the bed where they had spent the last five years, left the place, deactivated her Facebook, changed her phone number after notifying her relatives and moved out of town that same week.
Another case of cheating and infidelity was that of a wife who discovered her husband with another woman and decided to confront them at the airport. In a video posted on YouTube, it shows the moment when the offended wife attacks the subject's lover.
Please fill in your e-mail so we can share with you our top stories!