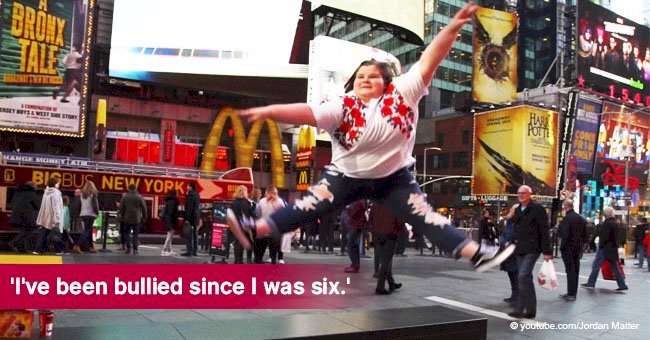 Dancer who was bullied for being 'fat' proves everyone wrong with her dancing
This pretty girl has faced negative comments about her overweight and her passion for ballet but none of that has been able to stop her.
Lizzy Howell is a 15-year-old girl from Milford, Delaware. She recently went viral for innocently posting a video in which she appeared dancing ballet, but her fame did not emerge in a positive way.
The girl began to receive thousands of messages by Instagram in which they criticized her strongly for her "fat" appearance.
But despite her young age and the amount of criticism she received, she responded forcefully to all the haters. Read more on our Twitter account @amomama_usa.
VICTIM OF BULLYING
Lizzy is a young woman who has been practicing ballet for some time and has published some moments of her essays on her Instagram account.
But it was a video that she published dancing, turning on the tip of her feet and making a few turns called professionally fouetté, the one that catapulted her to fame.
The video has been played more than 300,000 times and generated thousands of comments, but sadly, many of them are cruelly addressing the appearance of the 15-year-old girl.
"I guess it's because I do not have the typical body of a dancer, I'm still not sure, I do not think it's a big problem what I'm doing, but everyone else seems to think so," Lizzy told HuffPost in New York.
LEADING WITH THE ATTENTION OF PEOPLE
She currently has more than 100,000 followers on her Instagram account and is trying to focus only on positive comments.
"You do not know me, you do not know anything about me, you just watched a video of me dancing and you're making all these assumptions about my life," Lizzy added to the haters.
For now, Lizzy is focusing on seeing the positive side of the recognition she is having among people. She will even be the image of an advertising campaign for a clothing brand and is part of the #CaptureConfidence on the Instagram campaign, which focuses on motivating people to do what they want but also feeling safe.
LETTER TO THE HATERS
Charlotte Cooper is a psychotherapist who has also been a victim of negative comments, bullying specifically, for a large part of her life because of her overweight, and has recently published a letter addressed to all haters who have hurt her with words.
Cooper is a woman who loves to dance, and who has been criticized strongly for dedicating herself to it and being a person categorized as "fat", but she says that dance is a transforming medium, full of a lot of feeling that has helped her a lot.
She also states that if there are thin people dancing in theaters, why can't she do it? That's why he has found a special connection to the SWAGGA rhythm, a new one that "fat activists" have created so that many more people feel freer to join.
FACING CONSEQUENCES
Bullying and body shaming are serious things and kids who harass other peers should be told that their actions have consequences. Like this father had to do when he learned that his eldest daughter, Callie, was involved in harassing an overweight girl in her school.
One day he received a call from a crying woman who claimed that her daughter was harassed by Callie and her friends. They took photos of the girl in 'funny' poses, such as bending over when she was picking something up.
The girl was over-weight and the photographs had to do with fat shaming. The girl felt humiliated and tried to slit her wrists and was taken to the hospital. The father was upset.
Please fill in your e-mail so we can share with you our top stories!