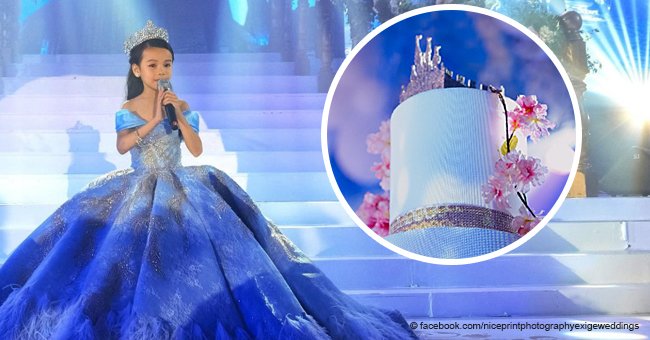 Lavish birthday party for seven-year-old girl sparks online outrage
Her name is Isabella, and she will never forget her seventh birthday because her party was almost as luxurious as Meghan Markle's wedding. She's the youngest daughter on a Filipino multimillionaire.
At the age of 7, most girls wish to be princesses and live their dreamed fantasy of having a castle, a shining dress and befriend other beautiful princesses. Little Sophia Isabella Barbo got that and more on the lavish birthday party her parents prepared for her.
The adorable girl is the youngest child of William Barbo, the owner of Unlimited Network of Opportunities, one of the most powerful companies in the cosmetics and beauty care industry in the Philippines.
Photos from the celebration were shared on Facebook by Nice Print Photography & Exige Wedding earned worldwide attention for the luxurious decoration of the venue, the extravagant dress, and the layered birthday cake.
Isabella rocked a princess blue dress with silver details on it and a frilled bottom. She topped her look with a crown made with diamonds. Her family also dressed up to the occasion, as father and brother wore fine silk and gold suits, while her mother donned exclusive nude colored dress made by a famous local designer.
The theme of the party was "fairies and princesses" so the multimillionaire hired the best princesses agent of Disney Princesses impersonators, with whom his daughter and 300 guests sang along to some of the songs of the animated films.
No detail was neglected in the decoration; the ceiling was adorned with balloons, seasonal flowers, and 20 crystal chandeliers. The tables were covered by silk tablecloths, silver cutlery and beautiful tulips in silver vases. The venue was featured a large stairway adorned with flowers, and the floor had Isabella's name printed on it.
And since a birthday party is not complete without a cake, you can imagine how luxurious it was. The six-floor cake was white decorated with silver ornaments, flowers, and a little ornamental castle at the top.
People's reactions to the party were mixed. Some believe Isabella's father shouldn't have spent so much money on the girl's 7th birthday because now she'll expect even more as the years pass. Others criticized the fact that, while so much money was thrown away on the party, there are lots of poor people in the Philippines that could have benefited from a donation.
Others just envy Isabella and said they wish they could have a party like that when they were kids.
"If her birthday already looked as grand as this, i wonder how grand her wedding would be.... Damn. Some people are just lucky since birth, and here i am, working my ass off to feed my family and my cats. Hope she became a great person and uses all her money to do kindness and help poor people. That way, she'll have a wallet of gold, and a heart of gold."
"Talk about over indulging. And no I would never do that for my kids even if I had the money. There is nothing wrong with doing nice things but this is just ridiculous. Maybe teach her how to be a real princess and be benevolent and giving instead of self-seeking."
"Its expensive and extravagant. Ofcourse if they have money to spend why not? Its glamorous! I cant give this kind of party to my daughter. Celebrate according to your status lol anyway, whats important is she is happy. Her parents are too. God bless all."
Please fill in your e-mail so we can share with you our top stories!