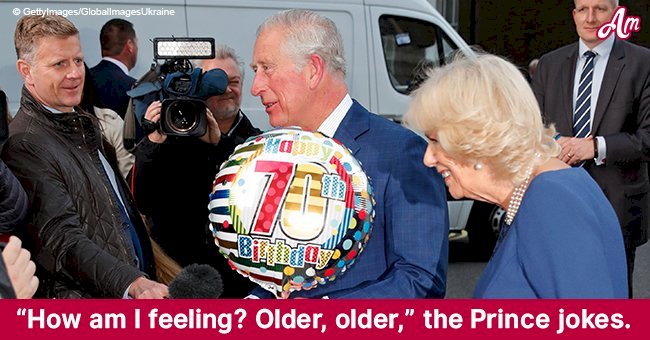 Prince Charles looks delighted and humble holding a fancy balloon at his 70th birthday
Prince Charles hilariously compared getting older to indigestion. And like the rest of us, there were colorful balloons involved for the celebration.
The Prince of Wales was heading to a private party at London's Buckingham Palace on Thursday evening. While interacting with well-wishers outside, he received several gifts.
Metro reports that along with some NaturalActive Hot Nuts for his red squirrels, the prince got a "70" balloon." The media caught Charles' reaction on the streets of Spencer House. The picture is found below.
The nuts were to thwart Charles' red squirrels from eating food off the bird tables. A bemused Charles laughed and asked the giver:
"Where do you find these terrible things?"
Then Charles stepped in for his birthday party hosted by the Queen. She described her son as "a dedicated and respected heir to the throne to stand comparison with any in history."
The party included other septuagenarians who had turned 70 this year.
British Prime Minister Theresa May is known as an admirer of the humanitarian prince. She said:
"[Prince Charles spent his life] defying expectation and refusing to be categorized."
She pointed to Charles' children as a "true credit to their father." She also said: "We as a nation are immensely proud of them and I am sure he is too."
Regarding the prince's environmental projects, May said:
"Throughout the Prince of Wales's life, his commitment to public service has been total."
Charles has focused on issues with climate change, architecture and farming, and the disadvantages of technology among the workforce.
Charles was accompanied by his wife, Camilla, the Duchess of Cambridge. When asked if she had gotten a gift for Charles, she replied: "I did but I'm not telling you."
The Duchess had previously expressed how hard it was to get a present for her husband.
Upon receiving the balloon with "70" painted on it, the prince joked:
"I didn't know you specialized in balloons."
Someone else asked the prince how he felt on his birthday, to which he responded "How am I feeling? Older, older."
He added: "I'm not sure, it's rather like indigestion, many happy returns are not quite the same thing as you get older."
Indeed, Charles is the longest-serving Prince of Wales, having been granted the title at age nine. Despite his age, he is still on his way to inherit the throne. When he does, we may see a name change as many monarchs opt for.
Earlier this month, BBC premiered a special on Charles in which he spoke about what he wanted for his birthday. Admirably, the prince mentioned something he did for his son that would stay with him forever.
"This is George's wood. As I get older, all I really long for is to plant trees. I hope it will be quite amusing for George as they grow up and he grows up."
Charles said he would want nothing more than to continue planting trees. Perhaps the tradition will be picked up by one of his sons as well.
Please fill in your e-mail so we can share with you our top stories!