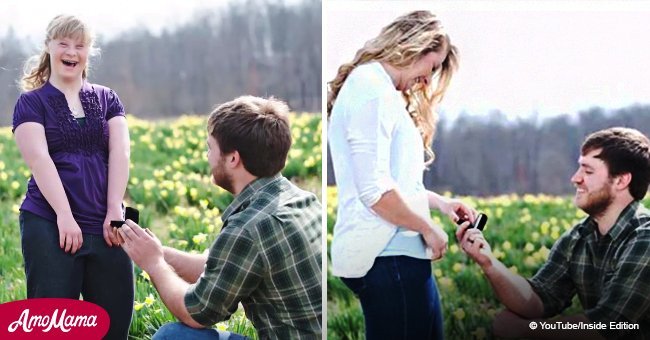 Groom proposed to his bride and her sister last year, since they were a 'package deal'
A man from Indiana has gone above and beyond to include his girlfriend's younger sister in his marriage proposal.
When Will Seaton, 25, proposed to his girlfriend, Ashley Schaus, 23, he knew he'd need more than one ring because he wanted to ask her little sister, Hannah, to be his best friend forever.
Ashley remembers telling Will shortly after the two started dating in 2010 that "Hannah and I were a package deal. She's part of my life and if you're going to be with me, she's going to be with us."
Read more on our Twitter account @amomama_usa.
In seven years of dating, they've taken Hannah along on most of their dates. So it made sense to Will that when he asked Ashley to be his wife, he would also need to ask Hannah to become part of his family.
So Will got down on one knee in a field of flowers in Santa Claus, Indiana, and asked Hannah to be his "best friend forever" before turning to Ashley and asking her to marry him.
Both sisters said 'Yes' and everyone ended up crying happy tears, and Ashley later told reporters:
"We may not know what the future will hold for Hannah, and I hope that someday she finds a sweet boy, but for now, I am so thankful she got to enjoy that moment that every girl dreams about."
Sixteen-year-old Hannah has Down syndrome and is diabetic; she will always need to be in her older sister's care. That doesn't bother Will, who said:
"Weddings aren't all about love and lust and everything. It's about bringing two families together. I'm bringing Hannah as my family into this."
At the wedding, Will and Hannah shared best friend vows. Among Hannah's vows were to share secrets, go fishing and take care of one another for life.
Hannah and Will also had a first dance to "Best Friend" by Harry Nilsson during the reception. The wedding day was very special, Hannah said.
The first dance was her favorite part, followed closely by smashing cake in her sister and Will's faces.
Ashley said she didn't want her wedding to be focused on the typical material details, such as the venue, the dresses, and the cake.
Instead, she wanted her ceremony to highlight friendship. She wanted Hannah to have a special role in the wedding, as she will in their lives moving forward.
After their story went viral, the Schaus family heard from many parents with special needs children who could relate and hoped their children would include their special needs siblings the way Ashley and Will have embraced Hannah.
Please fill in your e-mail so we can share with you our top stories!