Martha Stewart's first Uber ride deemed a disaster – car described as a 'mess inside and out'
When Martha Stewart decided to try out the ridesharing services of millennials in Manhatten, she got bitterly disappointed by the outcome.
The 77-year-old mogul decided to try Uber for the first time, she had always been a fan of the concept and wanted to try it out for herself.
Martha got much more than she bargained for when after she ordered her first Uber ride and said on Instagram:
"My very first Uber! I ordered the most expensive version to pick me up on Fifth Avenue and 57th street in front of Tiffany's. The first Uber did not show up. The second Uber came ten minutes later and parked halfway down 57th street where I could not see the license plate."
Read more on our Twitter account @amomama_usa.
The television personality's experience just got worse as she continued:
"Then we were facing east when I had to go west and south. It took twenty minutes to face southwest Etc etc. it only took a bit more than one hour. On top of it all the car was a mess inside and out!!!!!!!!"
Needless to say first impressions last, Martha accompanied her complaints on Instagram with pictures of the inside of the car. And it's probably safe to say she might not order another Uber ride anytime soon.
Martha Stewart's first Uber ride deserves to be a film https://t.co/eJyVLi9KOA pic.twitter.com/cyevTzvfm1

— 𝐭𝐫𝐞𝐲 𝐭𝐚𝐲𝐥𝐨𝐫 (@treytylor) November 19, 2018
On a more pleasurable note, Martha visited Chicago over the weekend where she brought her food and wine expo to the United Club at Soldier Field on Saturday afternoon. 
Martha sat down with WGN's Dean Richards in between tastings and food demos where they talked about all her plans for the Thanksgiving table.
Excitedly she shared her thoughts with Dean as said:
"I like my old-fashioned bread stuffing that I learned from my mother made out of country loaf bread and onions and apples and celery — very delicious. Then we're doing a cornbread stuffing with chestnut and a little bit of sausage. The best thing of all? Turkey meatballs! I've never done meatballs for Thanksgiving."
For those at home, Martha suggested her Turkey 101 and Parchment-wrapped turkey, with her cranberry-pomegranate gelatin in a turkey mold as a side dish.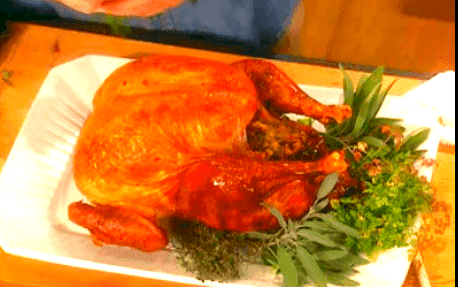 Earlier this year Martha tried another first. She took to Instagram and posted her first ever selfie. She had previously told fans she 'never ever' takes selfies, but have recently reconsidered after having had an Instagram account for four years already. 
The culinary queen had mostly shared pictures of her travels, food, and pets but confessed to experimenting with selfies and decided to share her 'first good selfie' on June 11, 2018.
After experimenting with some of the advantages the digital age has to offer this year, it will be interesting to see what Martha comes up with next year.