Toddler raids fridge and hilariously tries to deny the theft when confronted by mom
A 2-year-old girl went viral when her mom shared a video of what happened when she caught the girl with a block of cheese in her hands after raiding the fridge. The hilarious girl stole hearts all over the world with her attitude.
Alicia Annable, a mom of two from the U.K, recently found out who was the responsible for the mysterious disappearance of some items from her fridge when she caught the little theft in action: her daughter Harriet.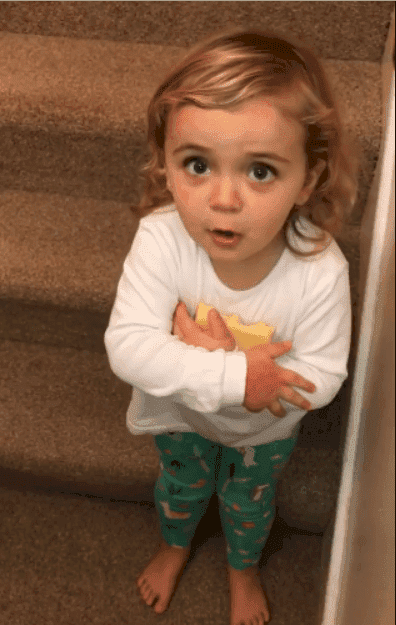 The adorable toddler was caught with the hands on the cheese, literally, as her mother cornered her in the staircase of their house while the girl tried to hide the evidence against her chest. "My fridge is open. Have you been in there?" said Alicia, but Harriet played coy, replying "No."
"Are you sure? You're holding a block of cheese," said the amused mom.
But Harriet was not about to admit her misconduct, and instead kept chewing on a full block of what looks like white cheddar cheese, with her eyes closed and a pleased expression. But her mom was not having it. "Stop eating it!" she said, but the rebellious girl just tightened her grip on the cheese with a pout on her face.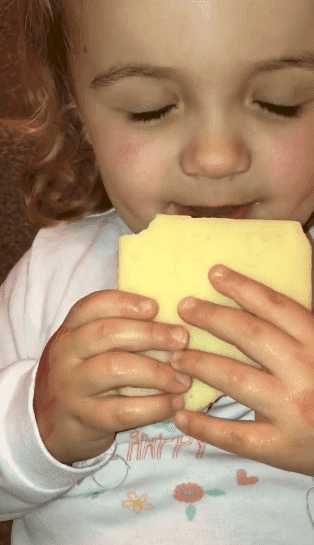 Even after Alicia tells Harriet that "daddy is gonna be crossed" because he warned her not to go to the fridge, the toddler doesn't budge. She just closes her eyes and keeps chewing on her precious cheese, while her mom sighs in exasperation and defeat.
The hilarious video has earned over 2.9 million views and 38k comments from people that find Harriet's love for cheese relatable.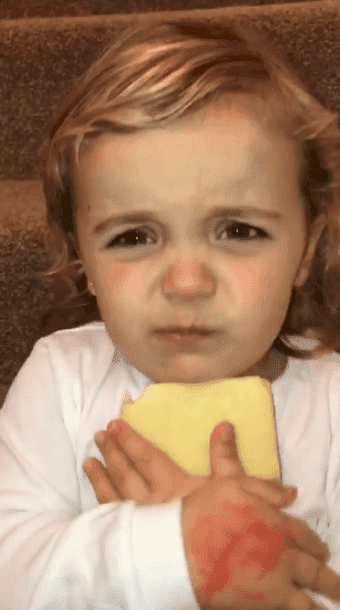 Alicia took to Facebook to share her reaction to the video going viral, as she wrote:
"The one video your child goes viral her hairs a mess, PJ's are mismatch, pen over both her hands, massive bruise on her head.

Didn't realize biting blocks of cheese was so relatable, like she's 2, but the rest of you need to get your [expletive] together. Gross."
Alicia explained on a separate post that Harriet is a problematic kid. She won't listen the first time, get grounded and refuse to apologize afterward, no matter who's trying to discipline her, she'll stand her ground. "Anyone's welcome to try if they think they can take her on," the mom wrote.
And concluded:
"I could be totally bias but when I see her personality developing I see a happy, confident, head strong little girl and I'll take that over anything. We're going to need the patience and perseverance of absolute saints though."
ANOTHER CHILD WITH ATTITUDE
Like Harriet, another little girl that went viral was a Chinese toddler with no fear for animals and a huge love for food.
A video recorded in Puyang City in central China's Henan Province, shows a toddler standing next to her mom while they fed pigeons. But in a turn of events, the little girl grabs a bird by the neck and steals the bit of food from its mouth to put it on her own.
The surprised mom can just look in amazement and then try to get the bird food from her daughter's mouth.