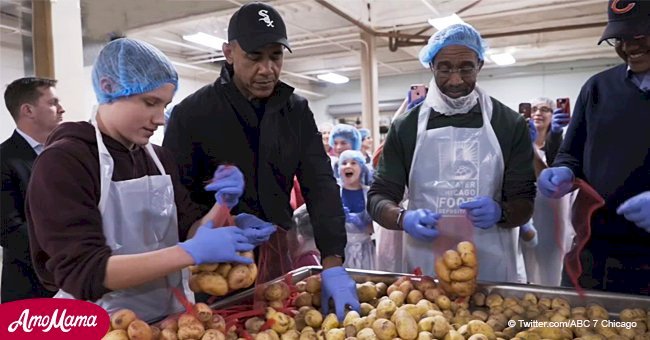 Barack Obama joins volunteers to help out at Chicago Food Depository for Thanksgiving

Barack Obama shared in the Thanksgiving spirit when he joined volunteers distributing food in Chicago.
The former President visited the Greater Chicago Food Depository on Tuesday. At least 60 volunteers were working for charity there.
According to ABC 7, the food bank will cater to 700 community distribution sites within the network.
Follow us on Twitter for more @amomama.
Barack was in the area for the Obama Foundation Summit with leaders and students. The organization works as a leadership building program for communities nationwide. Barack and the Chief Engagement Officer Michael Strautmanis brought along food to donate to needy families.
Charmingly, Barack greeted the volunteers:
"Hey, how's it going? This is a spiffy-looking spot right here."
Then Barack, 57, adorned latex gloves and assisted repacking potatoes. He would be part of those helping to serve the public roughly 159,000 meals per day.
At one point, the beloved president encouraged two little girls:
"You guys are doing such a great job helping out. I'm really proud of you."
Barack's genuine acts of kindness are only overshadowed by the overwhelmingly adorable love he shows for wife Michelle.
Just last week, he gushed on Instagram about his wife's new book when it was released. Barack said that Michelle's memoir, titled "Becoming," "faithfully reflects the woman I have loved for so long."
He was quick to describe his partner as "brilliant, funny, [and] wise." The free promotion helped Michelle's book to reach a bestselling status in record time. It topped Amazon's book category within a week.
After attending to his volunteer work, Barack later tweeted:
"Thanks to the Chicago @FoodDepository team for all you do and to the volunteers who are doing great work and let me crash today. Happy Thanksgiving, everybody!"
Barack's energy as he entered the room rivaled current President Donald Trump's during the Thanksgiving Turkey Pardon yesterday.
The event was missing any host kids. Barron Trump, 12, who was present last year, did not appear this time.
Regardless, Donald and wife Melania pardoned turkeys Peas and Carrots. They will live out their days on "Gobbler's Rest" in Virginia.
During his speech, Donald attempted to humor his audience with political satire. He said there was some controversy with the voting to determine the winning turkey, Peas.
He joked that "unfortunately Carrots refused to concede and demanded a recount. We're still fighting with Carrots."
The president also warned that the turkey may be subpoenaed by Democrats. And that they should watch out for the ninth circuit.
Some might have appreciated if the "humor" was left out of the event which is meant to be inclusive and heartwarming. But the audience chuckled either way.
As a president, it may be difficult to avoid political nuances at times. Yet Barack appeared to focus solely on the cause with his donations and on-hand charity work on Tuesday.
Indeed, while Barack was packaging potatoes, Trump took to the golf course in Florida with his wife and son Barron. He is expected to spend Thanksgiving at the Mar-a-Lago estate club just as he has since the start of his presidency in November 2016.
Please fill in your e-mail so we can share with you our top stories!