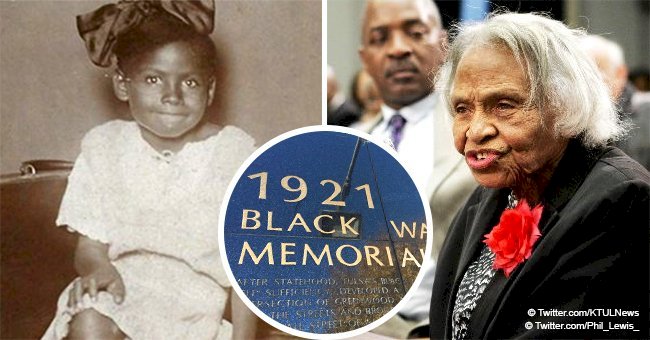 Last survivor of Tulsa Race Riot, Olivia Hooker, passes away at 103
At the age of 103, Dr. Olivia Hooker, the last known survivors of the Tulsa race massacre, has passed away.
A brilliant woman, Dr. Olivia J. Hooker passed away on November 21, 2018, at her New York home. The Coast Guard veteran was 103 at the time of her passing. Her nephew posted the announcement of her passing on the Facebook page he runs in her honor.
Dr. Hooker was born in 1915 in Muskogee. Her family moved to Tulsa shortly after she was born and she grew up there.
At the tender age of six, Hooker's Tulsa community was destroyed by what has been dubbed the worst race riot in United States history. The riots occurred on May 31, 1921, and claimed the lives of 300 people.
More than 1,000 homes and businesses were burned down during the riots. Luckily the young Dr. Hooker managed to escape alive and became one of the few survivors of the Tulsa race massacre.
In an interview, Hooker did towards the end of her life, she revealed that on the day she had huddled under a large tablecloth with her siblings. Her mother instructed them to remain silent as a "white mob" ransacked their home.
"It was horrifying for a little girl who was only 6 years old trying to remember to keep quiet," Hooker said.
Hooker later became an advocate and raised awareness for the massacre. Jamaal Nash-Dyer, project director of the 1921 Tulsa Race Riot Centennial Commission said, "She wanted to make sure the story was no longer a secret. We, as a state and as a nation, have a horrible way of trying to hide things that are embarrassing and that are tragic."
"She was the first one who, to my knowledge, refused to call the 1921 race riot a riot," Hall-Harper said. "She said it was not a riot, it was a massacre."
In her adult life, Dr. Hooker went on to prove that she was a force to be reckoned with. She became a pioneer for women and minority groups in the institute.
Dr. Olivia J. Hooker was the first African American woman in the U.S. Coast Guard in 1945. The brilliant veteran then went on to pursue a career as a psychologist and professor of psychology
As a psychologist, Doctor Hooker was an advocate for Americans with disabilities, working tirelessly on mental health issues in correctional facilities. At the age of 95, she started volunteering at the Coast Guard Auxiliary.
The then-President Barack Obama praised Dr. Hooker for her "tireless voice for justice and equality." He went on to say her work has contributed immensely to making the world a better place.
Dr. Hooker went on to prove that she was a force to be reckoned with
More recently, she was honored by the Coast Guard. They dedicated a wing of its training center to her. At the ceremony, she had shared her philosophy for life, "Love all, trust few, and do right."
Dr. Hooker had been featured proudly in the design of the Google doodle of the day on Veterans Day. She was also interviewed for the day.
She worked to inspire the nation to fight for justice till the day she passed. The entire nation is now mourning the woman who many consider a national treasure
The devastating news of her passing also prompted a post from Admiral Karl Shultz who praised Dr. Hooker for her many accolades and said, On behalf of the men and women of the Coast Guard, we'd like to extend our sincere condolences to Dr. Hooker's family."
"It's not about you, or me. It's about what we can give to this world." ~ Dr. Olivia Hooker
Please fill in your e-mail so we can share with you our top stories!