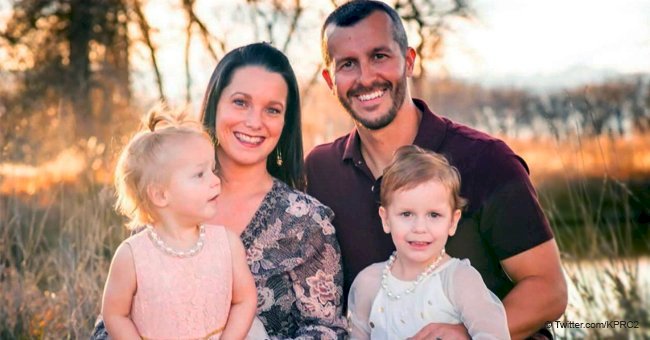 New details over Chris Watts' case reveal his 4-year-old daughter fought for her life

Chris Watts' daughter Bella put up a fight as her own father smothered her to death. Watts' sentencing hearing revealed that she bit her tongue during the horrific ordeal.
On Monday, Watts stood with his head hanging as the judge sentenced him in the Weld County District Court in Denver. He will serve five life sentences for killing his pregnant wife Shannan and two daughters: Celest, 4, and Bella, 2.
According to the Daily Best, during the trial, the prosecutor Michael Rourke suggested a motive for Watts' heinous acts. The 33-year-old had been having an affair with his co-worker.
Follow us on Twitter for more @amomama.
According to Rourke, Watts wanted to start over. But even with this reasoning, it doesn't make sense. Rourke said:
"None of this answers the questions of why. If he was this happy and wanted a new start, get a divorce. You don't annihilate your family and throw them away like garbage."
But Rourke also revealed that before Watts disposed of his family's bodies, he murdered them brutally.
New details showed that four-year-old Bella fought off her father as he suffocated her. She had cuts in her mouth and bit her tongue a few times as the person meant to protect her ended her life.
And then, while pushing Bella's body into an oil hatch at his former place of work, her body was scraped. Sister Celeste was also buried in the hatch.
Their mother's body was disposed of in a shallow grave nearby. Her autopsy showed finger-shaped bruises on her neck. Experts say it would have taken about two minutes to kill someone by strangulation.
Rourke said in the courtroom regarding poor Bella's killing:
"Imagine the horror in Bella's mind as her father took her last breaths away. Bella fought back for her life."
Shanna's father, Frank Rzucek Sr., spoke to Watts directly, calling him a "monster" and saying Watts disgusted him.
Shannan Watts' father told Watts:
"I trusted you to take care of them, not kill them. You have to live with this vision every day of your life, and I hope you see that every day of your life."
Rourke further described the devastating events the two little girls went through:
"Even worse. What must Bella, age 4, and Celeste, age 3, must have experienced or thought as their father—the one man on this planet who was supposed to nurture or protect them—was snuffing out their lives."
After the sentencing, Rourke addressed again the lurking question of why Watts did what he did:
"I don't think he will ever tell us. I don't think he will give an honest assessment of why he did what he did, how he did what he did.
Please fill in your e-mail so we can share with you our top stories!