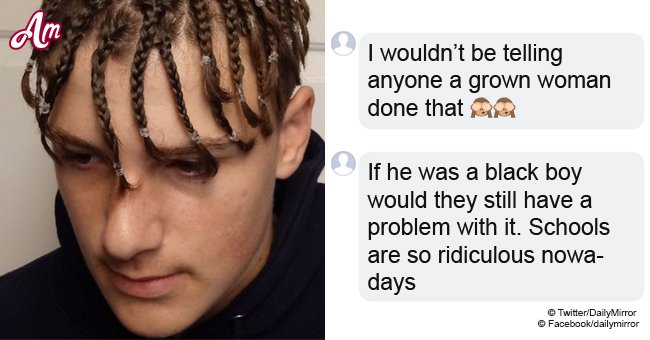 Teen excluded from school for turning up with braids his mum spent hours designing
A school refuses to allow a boy with braids to attend class until he changes his hairstyle.
Miles Coaley's mother spent four hours plaiting his hair but when the 15-year-old got to school the next morning he was barred from Ysgol Berwyn, in Bala, Wales.
The school's headteacher Andrew Roberts, told Miles' father that the teen would not be welcomed back until he had unbraided his hair, reported Daily Post on November 19, 2018.
"I don't see what the problem is, Miles is only young, and he just wanted to look a little different."
SENT HOME FROM SCHOOL OVER HIS HAIRSTYLE
Brian Coaley dropped his son off at school and 20 minutes later he got a call asking him to pick Miles up because he was banned from school until he changed his hairstyle.
Coaley asked to speak to the headmaster who told him that his demand was in compliance with the school appearance policy and that the subject was not open to discussion.
According to school policy pertaining to appearance, unusual hairstyles or coloring their hair in unnatural colors is forbidden to the students.
A LETTER FROM THE SCHOOL DETAILING THE OBJECTION
The next day, Coaley received a letter from the school thanking him for his willingness to discuss the issue of his son's hairstyle and detailing the whys and wherefores of the ban - including specific styles and hair coloring forbidden bt the school.
"Thank you for coming in to discuss Miles' situation today where we as a school have asked him not to attend school with his hair styled in a fashion which we as a school do not approve of."
According to school policy pertaining to appearance, unusual hairstyles or coloring their hair in unnatural colors is forbidden to the students.
The policy regulating student's appearance was confirmed and implemented by the school governors and reads: "pupils should not wear their hair in styles that are unusual."

Source: Twitter/DailyMirror

Source: Twitter/DailyMirror
MILES COMPLIED WITH THE SCHOOL'S DEMAND
Coaley revealed that in order to continue attending the school, Miles has taken unbraided his hair. Miles is a good student, with good grades and neither he nor his parents were willing to risk his academic future in order to stand on a principle.
There have been several recent instances of British students being sent home for hairstyles deemed unacceptable to school policy. In Sheffield, a young girl was barred from school for her unusual hair coloring.
STUDENT SENT HOME FOR HER LEOPARD PRINT HAIRSTYLE
The school considered her hairstyle "extreme" and when the13-year-old went back to lessons the next day with a headscarf covering the leopard print style, she was once again sent home.
Lauren's mother considers the school is infringing on her daughter's human rights and has taken her out of the school permanently.
"She will never be going back to that school. I compromised and put her in a bandana, which was quite wide and covered the leopard print, and she was sent home from school because it is still under the hairband."
Yvonne has stated that her daughter has a legal right to an education no matter what her appearance might be and that the school is denying her that fundamental right.
Please fill in your e-mail so we can share with you our top stories!