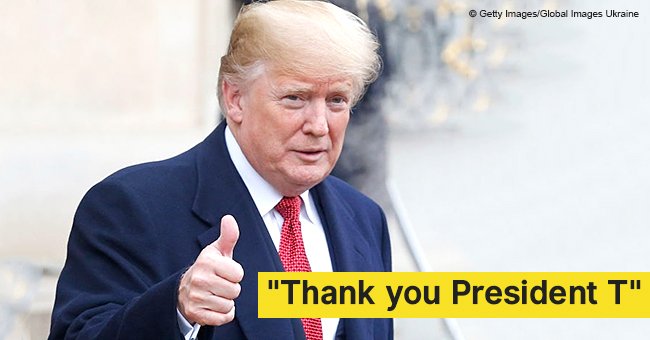 Donald Trump thanks himself in tweet for falling oil prices & causes a stir on social media
President Donald Trump is in the middle of the storm after he thanked himself via Twitter for the falling prices of oil and "other good economic news."
On November 25, the current POTUS took to Twitter – one of his favorite platforms to make announcements – to show his excitement over the falling oil prices. He thanked himself for that and compared it with a "big tax cut."
Even though several people seemed glad for the news, many others couldn't understand why he thanked himself. Some Twitter users made jokes, while others just sent backlash.
PEOPLE'S REACTION
User Stefan Sirucek wondered if POTUS really thanked and gave himself a "pet name" in the same tweet. Jeroen Baert, on the other hand, pointed out that there was only one Mister T, attaching a photo of the actor and retired professional wrestler Laurence Tureaud also known as Mr. T.
Some people didn't elaborate much and said that Trump was a national embarrassment, while others wrote lengthy messages explaining that everything that POTUS does is "trash" and that those kinds of tweets only made it worse.
As Daily Mail reported, the average gas price in the US in $2.51 a gallon, down from $2.84 a month ago. It is not the first economical-related topic that Trump is proud of as he has repeatedly touted the strong economy in the country as a major accomplishment of his presidency.
TRUMP'S THANKSGIVING MESSAGES
Apart from that, POTUS said on Thanksgiving that he was most thankful for having "a great family" and for "having made a tremendous difference" in the US. "This country is so much stronger now than it was when I took office that you won't believe it [sic]," Trump added.
It was not the only topic Trump addressed on Thanksgiving as he also talked about not allowing migrants at the Southern Border into the US unless they try getting legally. He added that if it is necessary, they will close the border.
TRUMP'S HOLIDAY
POTUS spent his Thanksgiving holiday visiting a Coast Guard station and giving them submarine sandwiches. During their meeting, Trump warned the officers that by eating one, they could gain five pounds.
Later, he went to his Trump International Golf course where he had dinner with Barron, Melania, Tiffany, Ivanka, Eric, and Lara – some members of the Trump family – in the ballroom at Mar-a-Lago.
Please fill in your e-mail so we can share with you our top stories!