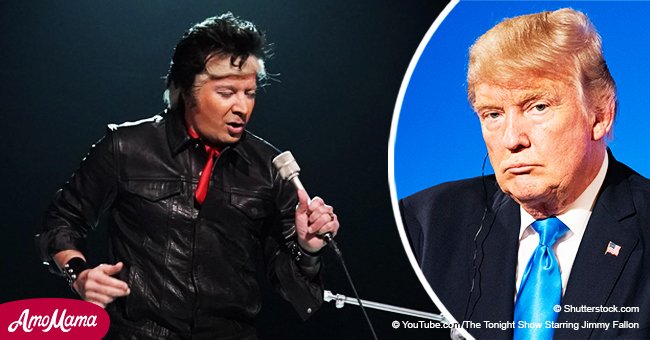 Jimmy Fallon transforms into Trump impersonating Elvis Presley in bizarre double wig

Jimmy Fallon impersonates President Trump impersonating Elvis and it's hilarious.
"Tonight Show" host Jimmy Fallon is known for his ready wit and talent for comedy. Fallon once again demonstrated his genius in a skit in which he impersonated President Donald Trump and delivered a scathing critique to his administration. The skit was posted on YouTube and is going viral.
The idea was born when the President visited Elvis Presley's birthplace in Tupelo, Mississippi, 2018, and told residents that he had been said to resemble the King of Rock 'n Roll in his younger days.
"The warden threw a party in the county jail/ Everyone in my administration started to wail/ Indictments handed down to the whole west wing/ You should've heard my lawyer Michael Cohen sing..."
Jimmy Fallon, YouTube, November 27, 2018.
FALLON CHANNELS TRUMP DANCING TO THE "JAILHOUSE ROCK"
For Fallon the image of the President as Elvis President was irresistible, and on November 27 he shared his vision with his audiences.
Inspired by the several scandals and investigations into the White House staff and the 2016 elections, Fallon picked Elvis' mega-hit "Jailhouse Rock" as Trump's theme song.
Other figures affiliated with the President and under indictment, investigation or headed to jail were mentioned in the song, including Paul Manafort, Rick Gates, Michael Flynn, and George Papadopolous.
A LEATHER ELVIS OUTFIT AND TWO WIGS
Fallon donned a black leather outfit - just like Elvis in his 1968 comeback special - and a black Elvis wig. What made this particular impersonation incredible is that under the Elvis wig, Fallon wore a bright yellow Trump wig. With his deadpan pout and perfect imitation of the President's voice, Fallon was spot on.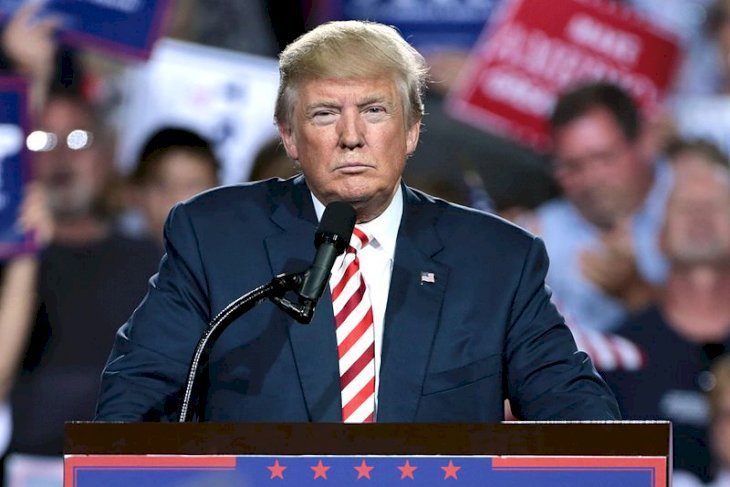 Source: Wikipedia
GENIUS LYRICS SPOOF ON TRUMP ADMINISTRATION SCANDALS
Although Fallon's impersonation was brilliant, his true genius was revealed by his adaptation of the song's lyrics. In it, Fallon refers to Robert Muller's investigation into Russian interference in the 2016 Presidential Election which gave Trump his unexpected win.
EVERYBODY WITH A WHITE HOUSE JOB DANCING TO THE JAILHOUSE ROCK
Fallon refers to Paul Manafort, Donald Trump's former campaign chief, who breached a plea bargain agreement with Muller by repeatedly lying to the FBI. Manafort was convicted of financial fraud in August and was offered a plea deal in return for co-operating with the investigation into alleged Russian meddling in the 2016 election.
Other figures affiliated with the President and under indictment, investigation or headed to jail were mentioned in the song, including Paul Manafort, Rick Gates, Michael Flynn, and George Papadopolous.
TREVOR NOAH AND JIMMY FALLON REACT TO TRUMP'S CLIMATE CHANGE STATEMENT
Comedian talk-show hosts Trevor Noah and Jimmy Fallon have responded to President Trump's assertion that he doesn't believe in climate change with incredulity.
"How can one man possess all the stupidity of mankind? It's like they edited his genes to give him superhuman stupidity."
Trevor Noah
Noah and Fallon reacted to the Trump administration's recent report on climate change during their late-night shows on November 27, 2018.
The Trump administration enlisted 13 federal agencies and 300 leading climate scientists to conduct a study about man-made climate change.
The study concluded that climate change is real and already negatively impacts the world, but President Trump stated that despite the study's results, he does not believe in climate change.
Noah mocked former senator Rick Santorum for claiming that the scientists lied about climate change to continue getting paid for their research:
"Of course. How did we miss it? Climate change is just a scam (...) by scientists trying to get rich. We should've known when we saw them balling in those Gucci lab coats with the diamond-encrusted beakers."
Donald Trump is quickly becoming one of the most mocked US Presidents in recent history for his bombastic statements and extravagantly expressed beliefs, and a preferencial target for comedians.
Please fill in your e-mail so we can share with you our top stories!