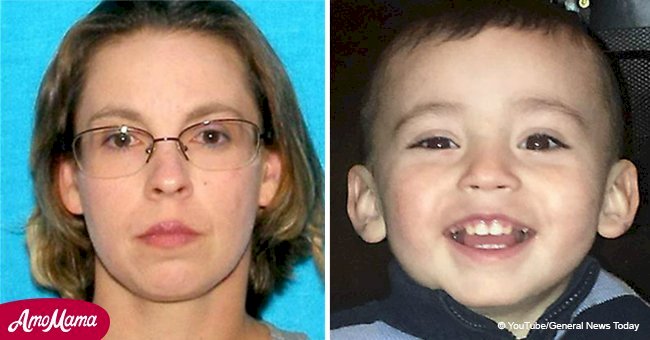 Kansas mom pleads guilty in notable case of son's murder whose body was encased in concrete
Miranda Miller of Kansas pleaded guilty to murdering her three-year-old son and encasing his body in concrete.
Miller, 37, requested an attorney change at the hearing on Wednesday morning. She claimed that her lawyer "has it in his mind that I'm guilty and "has not helped me fight my case."
According to the Whichita Eagle, the mother could be facing life in prison. Her guilty pleas include aggravated kidnapping, child abuse, and aggravated child endangerment in addition to second-degree murder.
Follow us on Twitter for more @amomama.
Miller's boyfriend Stephen Bodine has also been charged and convicted in the case. The pair tortured the young boy, Evan Brewer, for months before they eventually killed him.
In a previous court appearance, Miller testified against Bodine, 41, in hopes of pleading guilty to a less serious charge.
Video recordings show how the couple horrendously tortured the boy. One clip captured them berating a chained and naked Evan. They made him stand for hours at a time in a corner.
Evan's biological father Carlo Brewer reportedly made six complaints of abuse. He was finally granted full custody of Evan, but Miller refused to hand over the boy. She couldn't.
On May 19, Bodine took Evan into the bathroom. He came out with a wet, lifeless body. Miller testified that Bodine's actions came after Evan refused to eat that day.
She claimed that her boyfriend then mixed up a large amount of concrete and buried her son in it. Miller's landlord observed the "suspicious concrete structure emitting an odor in the house" four months later.

Source: Facebook/ KAKE-TV
Bodine is faced with life in prison following a conviction of first-degree murder. He was also charged with child abuse, aggravated child endangerment, and two counts of kidnapping.
Evan's father Carlo said of the situation:
″(Evan) didn't get to have the imagination like other children, where they think there's monsters in their closets or under their beds. He had real monsters."
Online, the public couldn't agree more. Many expressed their outrage at the mother, while others touched on how the system failed Evan.

Source: Facebook/ KATE-TV
The exact way in which Evan died was indeterminable due to how decomposed his body was found. A search revealed Benadryl in his system, suggesting the couple force-fed him a lot of salt.
Miller is expected to receive a minimum of 27 years per her plea deal. Her next hearing is on December 17.
Carl Brewer, the former Wichita Mayor, is the grandfather to the deceased Evan Bower.
Please fill in your e-mail so we can share with you our top stories!