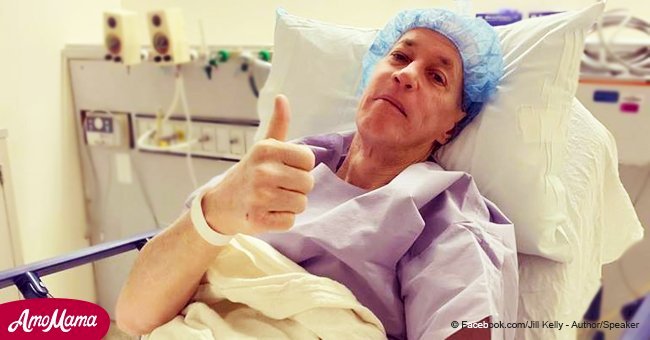 Jim Kelly's wife shares a photo with a touching message before beloved husband's surgery
Jill Kelly, Jim Kelly's wife, shared a heartwarming message on her Facebook page and a photo of her husband feature his iconic thumbs-up pose before he underwent surgery on November 28, 2018.
The Buffalo Bills Hall of Fame quarterback appeared calm on the photo as he was preparing for his surgery. While he was sporting his trademark thumbs-up, his other hand held Jill's tightly.
Jill's sweet words accompanied the touching photo. She wrote, "Thumbs up. For hand holding, Lavender hospital gowns, Blue hair nets. And the doctors telling us that this should be Jim's last surgery."
"If you would like me to pray for you, please let me know. It's an honor to do so."
Follow us on Twitter at AmoMama USA for more details and updates.
The couple had been each other's source of strength since Jim was diagnosed in 2013 with squamous-cell carcinoma in his upper jaw.
Despite the long battle, Jim keeps on fighting five years later with Jill never leaving his side.
"Thank you for praying us through. Your love, encouragement, and prayer support have blessed us beyond measure. While I wait for Jim, I'll be praying."
Fortunately, the surgery went well. Jim's family, as well as his fans, hope that it was his last surgery.
As for Jill, many of her husband's fans were in awe of her faith and her kind heart. Even though her husband was going through a lot, she still offered to pray for other people.
She wrote, "If you would like me to pray for you, please let me know. It's an honor to do so."
Following the successful operation, Jill took it upon herself to post another update, "Another thumbs up! Surgery complete and all went as planned! In recovery now."
Apart from the most recent procedure, Jim also had surgery in September. Doctors said he had a "successful restorative procedure to establish a functional denture fixed to his reconstructed upper jaw."
Also, he went through a 12-hour surgery in March for the reconstruction of his upper jaw. Doctors also had to remove a cancer cell on its right side portion.
Jim became known as one of the greatest quarterbacks the NFL has seen in years. Even though the Buffalo Bills did not win during the Super Bowls in the 90's, Jim was a big factor for leading the team to the finals for four straight years.
He was idolized by many and rightfully so. In 2002, he was inducted into the Pro Football Hall of Fame, and he had also been inducted into the University of Miami Hall of Fame in 1992.
Please fill in your e-mail so we can share with you our top stories!