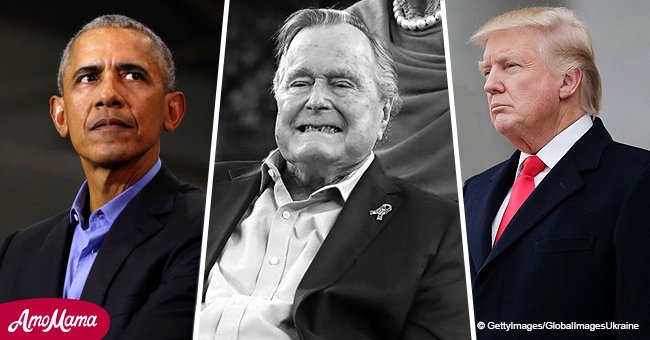 Friends and former opponents react to the death of George H. W. Bush

Soon after the announcement of the death of former president George H. W. Bush on November 30, several political personalities shared their condolences.
The official statement addressing the 94-year-old man passing came from one of his children, former president George W. Bush. In it, the man admitted that his father was "a man of the highest character" and the best father a child could ask for.
"The entire Bush family is deeply grateful for 41's life and love, for the compassion of those who have cared and prayed for Dad, and for the condolences of our friends and fellow citizens," read the statement.
BARACK OBAMA
One of the people who shared his condolences was former president Barack Obama, who pointed out that George H.'s life was "a testament to the notion the public service is a noble, joyous calling."
Apart from that, Barack praised the former president's expansion of America's promise to new immigrants and people with disabilities, remarking his commitment to leaving behind something better.
DONALD TRUMP
President Donald Trump also tweeted a statement saying that George H. inspired generations of Americans to public service and that he set the stage for the decades of prosperity that followed.
MIKE PENCE
Vice President Mike Pence admitted in a statement that he and his wife sent out prayers to the Bush family, adding that George H.'s example was inspirational and that his service would be "enshrined" in the hearts of American citizens.
AL GORE
Former Vice President Al Gore, who worked for Bill Clinton, the man who took over George H.'s hopes for a second term, noted his integrity and grace, saying that he earned respect for doing what he believed was right.
BILL AND HILLARY CLINTON
Former President Bill Clinton released a statement with his wife, Hillary. In it, they said that George H.'s devotion to his wife and children was outstanding and that his leadership and great heart were always on full display.
EMMANUEL MACRON
President Emmanuel Macron sent his condolences on behalf of the French people. He pointed out that the former president was a world leader who "strongly supported the alliance with Europe."
GOLDIE HAWN
Not only politicians but also celebrities took their time to share their condolences. Goldie Hawn was one of them, saying that George H. was an authentic caring human being who never hid his truth.
ELLEN DEGENERES
Ellen DeGeneres admitted that she would never forget when the late president and Bill Clinton met in New Orleans to show support and raise money after Hurricane Katrina and finished sending her love to his family.
Please fill in your e-mail so we can share with you our top stories!