Man whose drunk-driving killed his teenage girlfriend posts laughing video as he enters court
As the man convicted for the death of his girlfriend walked into court for his sentencing hearing, he was laughing and posting videos on Snapchat. 
On June 23, 2017, Thomas Baird and his girlfriend, 18-year-old Demi Grewer left Revolution Bar where they were celebrating Thomas' 21st birthday. 
Thomas Baird has been jailed for four-and-a-half years following a horror smash which claimed the life of his partner of seven months Demi Grewer https://t.co/u8RConjd3m

— Manchester News MEN (@MENnewsdesk) December 3, 2018
He had told police afterward that the cost of a taxi was too much early in the morning, so they left the club in his mother's Vauxhall Mokka. Thomas drove into a roundabout around 3:30 am and hit a fence post in Wilsmlow.
Demi sat in the front passenger seat at the time of the accident and got seriously injured. She got rushed to hospital but passed away shortly after, while another passenger also got hurt. After the crash, Thomas was found one and a half times over the drink drive limit.
Read more on our Twitter account @amomama_usa.
Drink-driver who killed teen girlfriend joked on Snapchat as he walked to court
Thomas Baird told his followers 'I'll be back very soon' but was jailed for four and a half years... https://t.co/ZmXe2pc4CL

— Police Alerts UK (@PoliceAlertsUk) December 3, 2018
Thomas, from Withington, got bailed ahead of Monday's sentencing hearing and pleaded guilty to causing Demi's death while driving under the influence of alcohol. He got sentenced to four and a half years in prison and got banned from driving for five years.
Ahead of his sentencing hearing, Thomas continued to post selfies and videos on various social media platforms where he can be seen laughing and smiling with friends. Defending, Richard Simons, informed the court about tests that show Thomas 'in the extremely low range of intelligence' and said:
"He had an odd and vacant expression on the night, which is precisely how the defendant presents normally. He has a great deficit in his day-to-day functioning."
Thomas Baird was handed a four-and-a-half year prison term for death by dangerous driving: https://t.co/eV8pqBmqBK

— Ellesmere Port & Neston Standard (@EPortStandard) December 3, 2018
Devastated by the tragic loss of her daughter and Thomas's nonchalance, Demi's mother Mrs. Donohue said:
"Thomas's social media is full of Demi and him all for attention. We asked him not to come to the funeral, but he came and posted pictures on social media and the order of service to show he was there."
After the hearing Mrs. Donohue said in a statement:
"Our family is unable to comment on the sentence as nothing will bring our precious Demi back. We can, after 17 long months find my daughter a place to rest. We need time to grieve without the anger, not only for the devastation Tom caused my family that night, for the pain and suffering he has caused since."
What does not seem to register with Thomas, is the finality of what transpired, the effects it had on her family and everyone else that loved her, and a lack of empathy for the pain he had caused.
In 2002, after Nicole from California, drove drunk with a few friends on their way to another friend's house one night, she lost control of the car and crashed, killing three of her friends.
It was only a few miles by road, but when Nicole turned a corner, she lost control of the car and smashed into an Alder tree sideways.
"I drove drunk and killed three people" https://t.co/nvTKCysTNw pic.twitter.com/5h4mFmDuNn

— Cosmopolitan (@Cosmopolitan) December 3, 2015
She woke up in the intensive care unit in the hospital, while some of her friends never woke up again. Nicole wrote about the incident afterward, about how her life changed in an instant, and how she had changed the lives of others, irrevocably. 
Nine months after the crash that happened in November 2002, Nicole got sentenced to six years in prison after she pled no contest to three counts of vehicular manslaughter while intoxicated. 
Nicole explained the reason for her plea of no contest as she said:
"I didn't want to try to convince anyone I was innocent. I knew I'd broken the law and taken the lives of three people, and I didn't want any more pain for their families or my own. I wanted to take responsibility for my actions."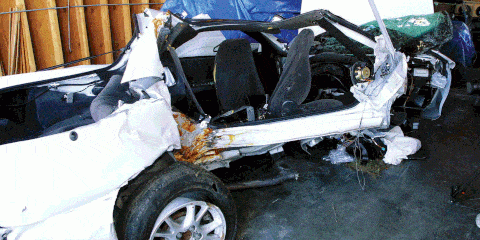 The remorse for what happened that night is something she will carry with her for the rest of her life. It does not undo what happened, but unlike Thomas, Nicole regrets her decision to drive that night. 
The devastation a preventable situation like that causes was enough to prompt a grieving father and husband to reach out in hopes of making a difference. Zach's aim was to help prevent similar incidents, by raising awareness of the destruction it causes. 
Zach Kincaid lost his 29-year-old wife Krystil who was eight months pregnant, when accused boxing champion Marcos Forestal drove against traffic, speeding in his BMW and crashed into her minivan.
The grieving father of four chose to upload shocking and emotional images of his dead unborn baby and his wife and pleaded:
"I put those pictures up so everyone can see the nightmare that I'm living and my kids are living every day for the rest of our lives. Who will fight with me for a change? Who will spread this like wildfire? Who will write their representatives and demand change?? We cannot as a society look the other way any longer. "
Perhaps the pictures he posted helped in making at least one person think twice before driving a car while intoxicated, and maybe even spill over into someone refusing to get into a vehicle with someone that is drunk and driving.
Learning from the actions of others, like Thomas and Nicole can result in fewer people getting ripped away from their loved ones due to something that could have been prevented.