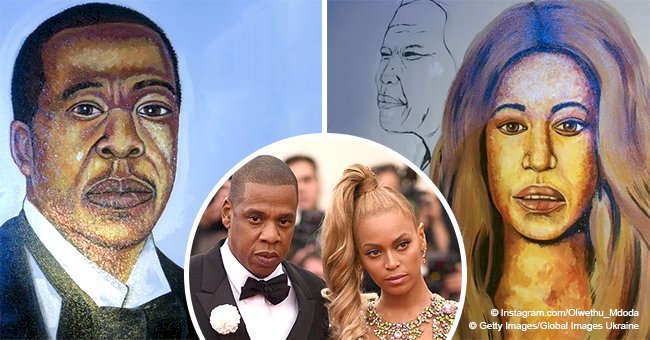 Celebrity artist Rasta mocked over 'not-so-accurate' paintings of Beyoncé and Jay-Z
A South African celebrity artist notorious for his "not-so-accurate" paintings of prominent figures has struck again. This time, his subjects are the globally acclaimed music power couple, Beyoncé and Jay-Z, and the images are better seen than described.
Lebani Sirenje, mostly known as Rasta, had social media buzzing after his painting of Beyoncé and her husband, Jay-Z made it online. Rasta was at the Global Citizen Festival: Mandela 100 concert where the "Lemonade" singer headlined an all-star lineup of international stars including Usher, Pharrell Williams, Ed Sheeran, and so many more.
After the concert, held on Sunday in Johannesburg, Rasta's drawings of Beyoncé and her husband, Jay-Z were posted on Twitter. Although the artworks look unfinished, Twitter users had a field day bashing the artist's attempt.
"Rasta just embarrassed us guys. Beyoncé can't see this," tweeted one person.
Another said:
"May someone take Rasta's painting equipment. He's drawing Beyoncé and Jay Z."
"Please don't show this to Beyoncé and Jay Z before they perform they might refuse... Rasta is at it again," chipped in a third.
According to All4Women, this won't be the first time Rasta is coming under fire for his less-than-perfect works. He has taken a shot at paintings of late prominent figures like music acts HHP and Flabba, and even the former wife of Nelson Mandela, Winnie at their funerals.
Those attempts only attracted ridicule and harsh words, especially from social media users. For some reason, Rasta finds it impossible to achieve the likeness of his portrait subjects and they always end up looking undesirable.
But the local artist, in an interview earlier this year, said that the criticism does not affect his self-belief. He, however, lamented the harsh judgment from netizens, explaining that his people usually share photos of his portraits before completion.
"I have been drawing for a long time, since my high school days and it's my passion -- something that I live for," Rasta said. "What people don't understand is that painting is a process and it's not a fast process. There's a lot of steps that must be taken from the first sketch to the final product."
He added:
"The problem now is that the minute I sit down, someone takes a picture of my incomplete work and says to Twitter, 'Look at Rasta's painting!' but at that stage the picture is not done, so it doesn't look great because it isn't done. But Twitter doesn't care, they go ahead and judge anyway."
Love him or hate him, Rasta possesses something that many people lack: a constant supply of self-confidence!
Please fill in your e-mail so we can share with you our top stories!