Woman punches herself in the face to accuse husband of domestic violence
An estranged wife took drastic measures to frame her husband for domestic violence after becoming suspicious that he might have been looking for a way out of their marriage.  
Faisal Khan, the distraught husband, has now called on the Australian authorities to charge his wife, Asmae, for false accusations and to deport her back to Morocco.
He claimed that Asmae had been using him to secure her Australian visa, and further accused her of being "materialistic," "greedy," and "dangerous."
He also claimed that he worked two jobs to support their married life and spent most of his earnings on Asmae.
The pair previously met on a Muslim dating website, Muslima.com and soon decided to tie the wedding knot. Follow us on Twitter to learn more.
Woman punches herself in face 'to frame husband for domestic violence' https://t.co/rudiCNJUby pic.twitter.com/WzVL221vdh

— The Mirror (@DailyMirror) December 3, 2018
According to Faisal, he paid for Asmae's expensive Gucci tracksuits, leather jackets, jewelry, shoes, holidays, and fine dining. He even helped her send money back to her family in Morocco.
After a while, he got tired of his wife's excessive demands, and the couple started to fight and quarrel on a regular basis.
Earlier this April, things accelerated when Faisal returned to their unit and found it in a mess. The furniture was tipped over, belongings were sprawled across the floor.
There even were dents in the wall. Broken glasses and spilled wine were all over the bedroom.
Faisal claimed that Asmae then threatened him by saying, "You think you are smart and you're talking to lawyers about me, now see what I do to you."
With this warning, she ran away. While on her way out, a CCTV camera recorded her inside the elevator of the building giving herself two uppercuts to her face.
However, the footage was recovered much later during the investigation.

She then went to the police station and filed a domestic violence complain claiming that Faisal assaulted her. Following her statement, Faisal was arrested and charged.
After two months of desperate attempts to prove himself innocent and over $20,000 of expenses on a lawyer, Faisal finally found the CCTV footage that showed Asmae punching herself to frame him.

Police authorities dropped charges against him but they have so far failed to take any action against Asmae, Faisal alleged.
Howard Brown, the victims of crime advocate, also backed Faisal by stating:
"So when you realize that someone has made a false declaration to a police officer, and you can prove that she made a false declaration, you then charge her with perverting the course of justice."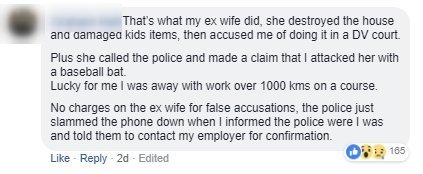 Faisal also claimed that Asmae's false accusation was the result of her discovering an email from Faisal, in which he wrote that he wanted a divorce. This could have affected Asmae's Australian residency.
The victimized husband also complained that he was continuously "used and abused" by Asmae "mentally, financially, emotionally," and he now wanted her to face the consequences.
Sandra Spicy: Shocking moment woman punches herself in the face ... https://t.co/BPP9vlhIRy pic.twitter.com/45vy9nGLRI

— Sandra ijeme dickson (@Sandraspicyy) December 4, 2018
Domestic violence is among the most dangerous issues of society in modern times. Especially, the cases of violence against women by their male partners are critically on the rise.
An observation of news stories from early 2018 revealed that more than 10 women in the US died by the hands of their male intimate partners in just 24 hours between 5 pm on New Year's Eve and 5 pm on New Year's Day.
Another statistics from NCADV suggested that nearly 20 people per minute, in an average, are physically abused by an intimate partner in the United States.