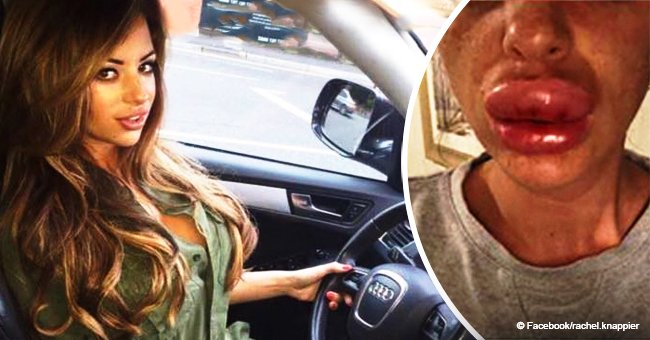 Woman almost lost her lip after fillers at Botox party caused them to double in size
Rachael Knappier, a 29-year-old lady from the UK, got "dodgy fillers" at a Botox party from an ex-convict beautician that almost made her lose one of her lips.
The woman revealed that she went to that party with the intention of getting a shot on her forehead to erase the wrinkles in that area. However, after a couple of glasses of wine, Knappier changed her mind and agreed to enlarge her lips, too.
Since the person who provided the medical treatment was not a doctor but a beautician, she made a mistake and injected the filler material into an artery. Soon after that, Knappier's lip swelled so much that the pain was almost unbearable.
WHAT LED HER TO GET THE FILLERS?
Apart from the alcohol, one of the principal reasons Knappier accepted to get the lip fillers was the "deal" she got. As The Sun reported, lip fillers alone cost about $380 in clinics. However, the 29-year-old lady got Botox and fillers for less than $300.
Another thing that led Knappier to take the decision was that she believed the beautician was a nurse. "Within a few hours, I began to feel unwell, my lips swelled like nothing I'd ever seen before and the pressure was unbearable," revealed Knappier.
She called the beautician, who was released from prison earlier this year, and she advised her to take an antihistamine and get to A&E as she thought it was an allergic reaction. They didn't help, though, so her last option was contacting The Consultant Clinic in London.
THE OUTCOME
After looking at her photos, the owner of the Consultant Clinic told Knappier that she would have an emergency doctor waiting for her in London. Once there, she got dissolving agent injected into her lips as they identified the problem: the filler got into an artery, what could have led to necrosis (death of soft tissue).
Thankfully, her lip came back to normal after months. "I would never go near a Botox party again. I'm cross that I didn't do my research and just assumed that everyone who injects Botox and fillers has been to medical school," admitted Knappier.
ANOTHER INCIDENT
Even though it was painful, Knappier's case was not as tragic as Icilma Cornelius'. She went to Dr. Windell Boutte for Botox and anti-wrinkle treatment before her wedding, but the doctor and her staff convinced her to get "a flat stomach."
Convinced that she was in good hands, Cornelius accepted. After eight hours of surgery, the woman's heart stopped. Boutte didn't have the equipment to bring her back to life, so they called 911.
While paramedics managed to save Cornelius, she ended up with permanent brain damage. It was later revealed that Boutte used unqualified staff and performed the surgeries in an unsafe location.
Please fill in your e-mail so we can share with you our top stories!