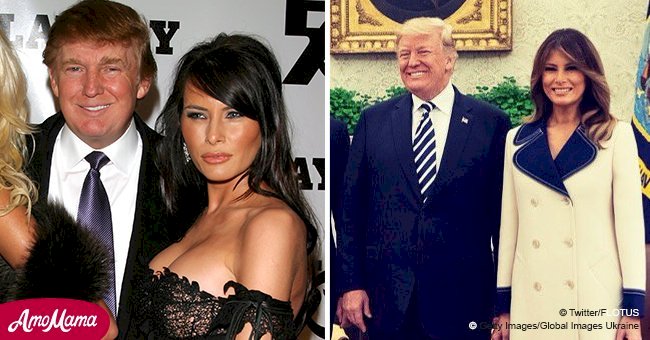 Melania Trump might be the first First Lady in 300 years to ever pose nude

In January 2000, the actions of First Lady Melania Trump made sure she reached a new first for presidential First Ladies in American history.
The First Lady featured in the January 2000 issue of GQ magazine in a spread that would make anyone rethink the mile-high club. When pictures of her photo shoot resurfaced GQ magazine said:
"Given that she was obviously so keen to be featured in GQ, we came up with a rather kitsch and camp story for her to feature in."
Trump requested that pictures be delivered to his office and the magazine framed the cover with a selection of prints and sent it over to him as soon as they could. The cover shoot went on to become listed as one of Melania's most significant achievements on the new White House website.
Read more on our Twitter account @amomama_usa.
But as it turns out, Melania is not the first model turned First Lady. Betty Ford and Pat Nixon also did some modeling at some point in their lives. Melania is, however, the second non-native American First Lady, as President John Quincy Adams's wife, Louisa, was born in England.
The cover Melania did for British GQ back in 2000 featured naked poses in and around Donald Trump's custom fitted Boeing 727 plane.
On the cover, Melanie lies naked on a fur blanket while being handcuffed to a briefcase, with each nude pose following with its own element of seduction.
In April 2016, Melania revisited GQ magazine and discussed what she would be like as First Lady if Donald Trump became president. Even then she commented that she would like to be involved in many charities involving children.
Bette Midler faced backlash after she posted one of Melania's GQ cover shoot pictures with the caption:
"The dry cleaning bill for the upholstery on Air Force One must be insane. #FLOT*TS."
Many people commented to Bette's post on Twitter which went along similar lines as one upset fan posted online:
"I loved you for years. 'Loved you in Beaches and Hocus Pocus. Now I'm done. I'm so sorry you have done this. This has nothing to do with politics. It's just wrong."
A twitter user that identified as a 'liberal feminist' commented that the First Lady Melania's past 'should NOT matter' and went on to write:
"I am tired of seeing people denounce her for having been a nude model, which has nothing to do with her FLOTUS work nor her involvement in this administration. Stay on message!"
Mixed opinions on far and opposite sides of the spectrum regarding anything Trump abound, the First Lady's feat of becoming the only presidential wife ever to pose nude, is no exception.
There are quite a few rules and traditions that make up the White House, which pertain to the Presidential couple with all the do's and what not to do's. But current President Trump had not seen the value in some of the traditions and decided not to follow them.
For one, family members are not supposed to take up any formal roles in the administration, rule Trump broke when he appointed his daughter Ivanka Trump as assistant to the president and his son in law Jared Kushner as senior advisor to the president.
The first family can decorate the White House according to their taste, except for the Lincoln Room and the Yellow Room, and can make changes with prior approval and within allocated budget limits. President Trump has already spent $2 million on renovations.
The Presidential couple is required to attend the White House Correspondent's dinner, which the Trump family refused to do, along with recognizing LGBT Pride Month, which they have also declined to recognize.
Another lesser-known tradition is that the new President always meet with the Queen, however, it did not happen with President Trump as he has a petition filed against the Queen from meeting her.
It would appear that Melania Trump is not the only one of the Presidential couple to defy presidential traditions and rules with her being the only First Lady to ever have posed nude.
Please fill in your e-mail so we can share with you our top stories!