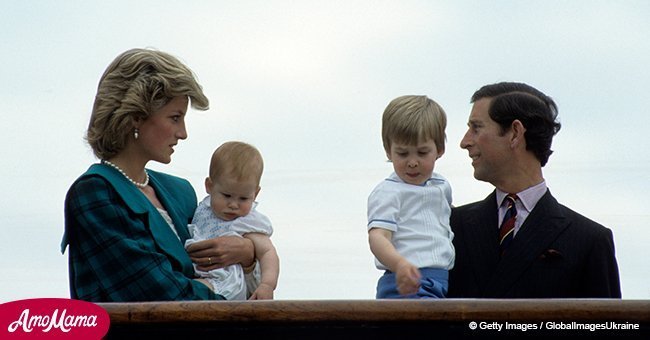 Prince Charles 'joke' on the birth of Prince Harry that broke Diana's heart
When Princess Diana was pregnant with her second child, Prince Charles had hoped that it might be a girl. He was reportedly very disappointed when a second son was born.
The Princess of Wales gave birth to Prince Harry on September 15, 1984. The couple had decided to keep the gender of their child a secret until the baby was born, so they had not known that they were to have another son.
When Harry was born, Prince Charles gave his baby one look as said, "Oh God, it's a boy." To add insult to injury, he then also added, "And he's even got red hair."
Read more on our Twitter account, @amomama_usa.
He later claimed it had been a joke, but the comment hurt his wife deeply. She had just endured nine long hours of labor and a difficult natural birth without drugs, on top of the nine stressful months of pregnancy.
Red hair is a trait that runs in Diana's family, with all her sisters and her brother having red hair. To make matters worse, Prince Charles continued his complaints, telling her mother how disappointed he was.
He told her that they were really hoping it would be a girl.
Shortly after Prince Harry was born, Charles returned to Camilla Parker Bowles and continued their affair.
Diana had known for some time already that there was another woman in Charles' life, but she and her husband had become close again in the months preceding Harry's birth.
It all changed after the birth. Charles was cold towards his wife, and Diana said something inside her "closed off."
"By then, I knew Charles had gone back to his lady."
Harry's striking red hair led many to wonder if his biological father was not perhaps James Hewitt, a captain in the army who was contracted to give horseback riding lessons to Diana and her sons.
Princess Diana and Hewitt had an affair in the late eighties, but it wouldn't be physically possible for Hewitt to be the prince's father, as he and Diana only met after Harry had been born.
Prince Charles was over the moon when his daughter-in-law Catherine, Duchess of Cambridge gave birth to Princess Charlotte in 2015, joking that his granddaughter would look after him in his old age.
Please fill in your e-mail so we can share with you our top stories!