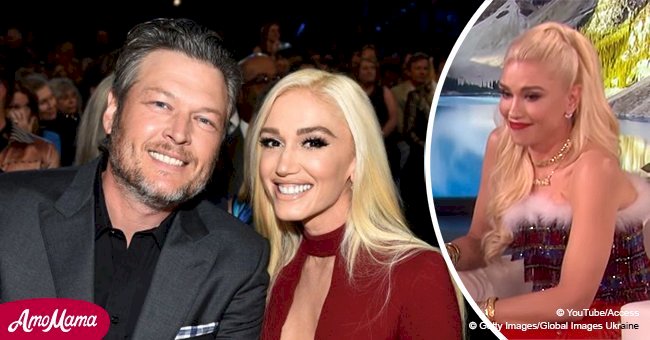 Gwen Stefani opens up about engagement rumors after Ellen brings her to tears with compliments
Ellen DeGeneres tried to trick Gwen Stefani into admitting that she is engaged to Blake Shelton. Stefani eventually opened up and revealed her secret.
On Tuesday's episode of The Ellen DeGeneres Show, Ellen went all out. She asked Gwen Stefani all the hard-hitting questions that fans have been contemplating lately.
She even tried to trick Stefani into admitting she's engaged to Blake Shelton. The clever host casually said to the "Hollaback Girl" singer, "So Blake told me that y'all are engaged now."
Stefani did not fall for it. She instantly exclaimed, "No he didn't. No, we're not. No we're not. No we're not."
DeGeneres however was not giving up. She insisted, "Yes, he told me you're engaged," she said. "So let's talk about that."
"What are you talking about? We're not. We're not engaged, and we're not married. And he's my boyfriend still." insisted Stefani
As usual, DeGeneres simply could not accept no for an answer. She pressed on and asked Stefani, "But when will you get married?"
Stefani continued to plead ignorance on the matter. She kept repeating, "I don't know. I do not know."
DeGeneres did not let up. She asked all the tough questions and even questioned Stefani about why she doesn't flip the roles and pop the question to her The Voice-coaching beau instead of waiting for him.
"Every time I come on here, I think it's gonna be like, 'I got this.' But I don't. I don't, But I do like talking about him. He's awesome. And we got to do a video together. See how I did that? Changed it to something that would benefit me?" said Stefani
In November, Stefani and Shelton released the music video for their duet "You Make It Feel Like Christmas." The couple has openly shown off their growing love for each other, with Shelton even going to Vegas to support his girlfriend.
"It was really crazy because Blake actually hates doing music videos. Hates! I got him to do it, and his manager was like, 'He'll do it, but he'll only do a performance thing.' We just kept talking him into more and more and more." said Stefani to DeGeneres.
All DeGeneres wan
ted to know was whether or not they were getting married. She eventually just sweetly asked "What? It's a yes or no answer."
"Next question," said a flustered Stefani.
Please fill in your e-mail so we can share with you our top stories!