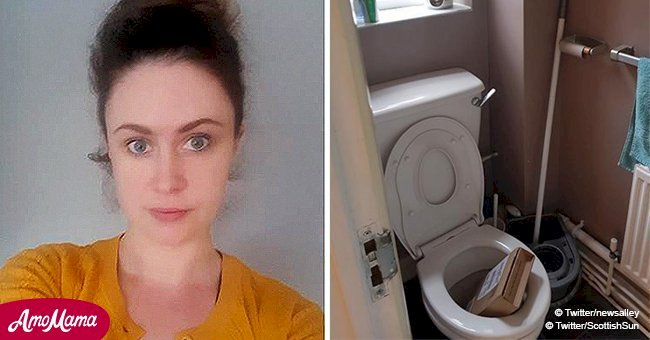 Mom finds Amazon parcel delivered into her toilet
It can be argued that delivery service has gone down the drain when a mother of two found her Amazon package delivered in the toilet.
Any parent knows a child can spike a fever out of nowhere, and when they do, it is useful to be able to keep an eye on it. So when one of Jade Elliott's children got sick, she decided to order a £50 Braun Thermoscan online.
Days later while out viewing Christmas lights 26-year-old Jade received a message that Hermes had delivered her package at home. Knowing that no one was home, she decided to return to their property in Derbyshire and see where the parcel got left.
Once she arrived home, Jade found a note that said her package got delivered through a window. Walking around the house, she checked all the windows and surroundings, but couldn't find the parcel.
Read more on our Twitter account @amomama_usa.

Source: Twitter/The Sun
Then it struck Jade that one window is always left open, so she headed to the room, and as she had thought, they delivered the package through the open frosted window in the bathroom and fell inside the toilet, stunned Jade said:
"You just can't make it up. I just stood there stunned and just laughed because you just don't expect it to be there. You have to laugh in that situation. Why would a driver decide to post it through a frosted glass window which obviously leads to a bathroom?"
The packaging from Amazon was much bigger than the box and broke its fall, so even though the package was wet, it wasn't damaged.

Source: Twitter/The Sun
She continued her thoughts on why delivery drivers do things in such a way as she said:
"I'm not sure why drivers decide to leave them in stupid places. I hear it's because they don't get paid if they don't deliver them."
A spokesperson for Hermes expressed their concerns and stated:
"We would like to apologize to Ms. Elliott for what is clearly an unacceptable delivery. We have spoken to the courier involved to ensure that this does not happen again."
After recent unrelated events, Amazon decided to make some changes by holding third-party sellers more responsible for the safety aspect containing the packages they store in Amazon warehouses.
Last week Amazon told third-party resellers that penalty fees for packages not complying with its safety requirements would be charged with new penalty fees.
From 2009 Amazon experienced a rise in safety violation reports, with some unmarked packages having leaked hazardous materials like lye and gasoline, while others contained unmarked batteries or flammable aerosols.
In 2009, the company only had two safety violation reports, this year it reached 42. The most recent violation occurred on December 5, when a container with bear repellent got punctured, exposing several workers in an Amazon warehouse in New Jersey and can cause severe burns.
A former employee, Fred Killingsworth is of the opinion that the issues stem from third-party sellers not knowing what the federal law requirement is when they ship their products to an Amazon warehouse. This, in turn, makes it more difficult for Amazon to stay compliant.
While some delivery drivers carelessly handle your package others prevent terrible tragedies from occurring, on occasion.In August, a UPS driver arrived at a home in Robertsville, Tennessee to pick up a package when he noticed some writing on it; "call 911."
Had he not paid attention to the writing on the parcel when he picked it up, he may not have seen it at all, or maybe too late.
When he left the residence the UPS driver called the authorities who soon arrived to arrest a man that had brutally molested his wife, held her at gunpoint, and caged their 3-year-old son in a room.
Please fill in your e-mail so we can share with you our top stories!