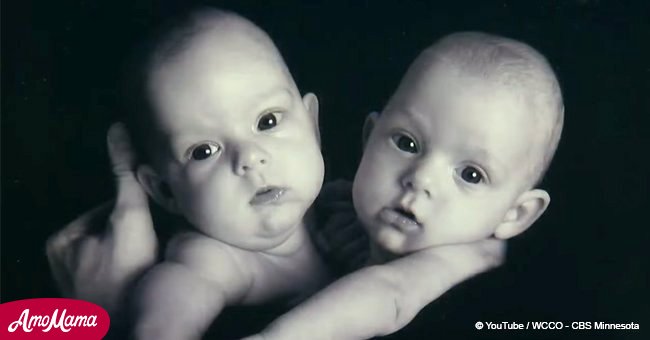 Famous conjoined twins Isabelle and Abby separated 12 years ago now lead normal lives

Doctors in Minnesota, United States, called them "miracle twins"; they were born joined by the chest, but now, the Carlsen twins are celebrating 12 years of living their own lives and have a lot to tell.
Abigail and Isabelle were successfully separated by a team of surgeons from the Mayo Clinic located in Minnesota when they were six months old. Now, they are in fifth grade and live in Mandan, North Dakota.
His medical history caught the world's attention at the time. At present, they are two sisters who share a very contagious vibe and assure that they are not as similar as people believe, these were their words:
"Every night we look at ourselves in the mirror of our room and say, how do people confuse us?"
Isabelle and Abby spent their first six months in a hospital room in Minnesota. They were joined from the chest to the stomach at birth. Isabelle's heart was more in Abby's chest and other organs were together.
The medical team assigned to this case was trained for months for the separation surgery. You could say that this intervention was a complete marathon
The successful operation was performed back in 2006. It lasted 12 hours and required 17 surgeons. Read more on our Twitter account @amomama_usa.
Two weeks later, they passed all the medical tests and could be discharged, so they went to their home in North Dakota as two completely different people.
After 12 years, their parents have seen them become laughing girls. Both like gymnastics, new clothes and compete for everything.
Their parents, Jesse and Amy Carlsen, say that girls always try to show their differences:
Despite being twins, the girls do not want to be confused, for them it is important to show that they are completely different individuals.
In their classrooms, the Carlsen twins are simply Isabelle and Abby. Therefore, her teacher, Tiffany Moos, says that they are two girls who compete a lot, but who have great qualities.
Moos says the sisters are academically advanced and get along very well with their classmates.
Until a few years ago, the girls wore protective clothing on their chests. This measure of caution was more important for Isabelle who only had a thin layer of skin over her heart.
However, this is already a problem of the past thanks to a new protection device that the girl has.
What is most incredible about the twins' miracle is not that they survived, but that they progressed. Both are in good health and lead a life like all 12-year-old girls.
Please fill in your e-mail so we can share with you our top stories!